New Study Pinpoints Exactly How Much Money Compliance is Costing Michigan CUs
How much has the regulatory burden cost Michigan credit unions? More than $302 million.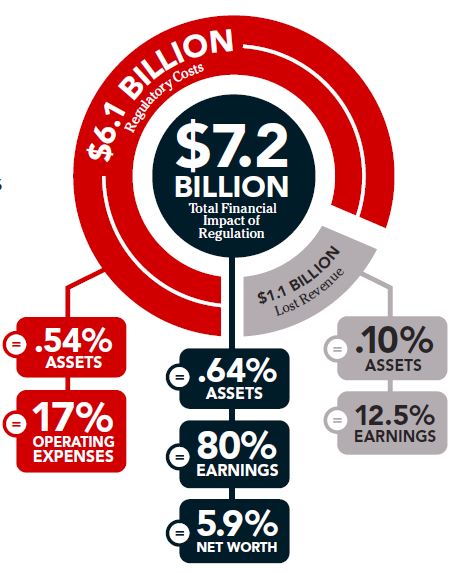 CUNA's breakdown of how much the regulatory burden has cost credit unions nationally since 2010.
That's according to a recent study from CUNA and Cornerstone Advisors—conducted with the support of the Michigan Credit Union League and other state leagues—which used 2014 Call Report data (the most recent year for which a full year of data is available) to examine state by state the impact compliance has on credit unions' bottom line. The report examines how regulation has impacted credit union financials since 2010, with the conclusion that increased costs and reduced revenues due to regulation have resulted in a hit of at least $7.2 billion to the credit union movement as a whole.
At a total impact of $302.8 million ($64 per member), Michigan falls in the mid-range of credit union impact. The state that had the lowest total impact was Wyoming ($19.5 million), though with only 29 credit unions included in the data, that state's per-member figure was on the higher end of the spectrum at $83. At the opposite end of the spectrum, Virginia's data reflected more than $520 million in total impact to the state's credit unions, or $57 per member.
MCUL Executive Vice President and Chief Operating Officer Ken Ross praised CUNA for commissioning the study, calling it another example of the strength in unity achieved through the CUNA/league partnership.
"Those of us working within the credit union movement have known for years the crushing effect that the regulatory burden has had on our institutions," said Ross. "This important study puts a dollar value on the impact it's having on our credit unions. I look forward to hearing how Congressional leaders respond to this data and then working together with CUNA to help streamline unnecessary regulations in order to make it easier for credit unions of all sizes to do business."
For more information or to see the study, click here.
Go to main navigation