In Brief...
Saginaw Medical Federal Credit Union Gathers "Cases for Kids"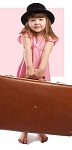 In recognition of Child Abuse and Neglect Month, Saginaw Medical Federal Credit Union (SMFCU) is gathering new and gently used suitcases and duffle bags throughout the month of April to help area children in the court system who are victims of abuse and neglect.
"Foster care children have few personal belongings. When they move between families, they are often forced to carry those belongings in plastic trash bags or grocery sacks slung over their small shoulders," said Suzanne Greenberg, CAN Council President/CEO. "Carrying their effects in a trash bag can be embarrassing and make them feel that they just don't matter."
SMFCU will be collecting suitcases in April at both offices, (4550 State Street and 1430 N. Michigan Ave). Suitcases should be for young children as well as teenagers.

Lake Michigan Credit Union Hires James Snave as Senior Vice President of Wealth Management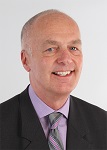 Lake Michigan Credit Union (LMCU) is pleased to announce the hiring of James Snave as Senior Vice President of Wealth Management. With this hiring, Snave assumes the lead management role at Lake Michigan Investment Services (LMIS).
Snave has over 30 years of experience in the financial services industry, primarily in wealth management and private banking. Born and raised in Chicago, Snave earned his bachelor's degree in economics from Governors State University and a master's degree in finance from DePaul University, both of Chicago, IL.
Snave reports directly to LMCU's President and CEO, Sandra Jelinski. "We're so pleased to have Jim join our investments team. It's quite an advantage to be able to secure the services of such a talented, committed, experienced financial leader. LMCU, its investment advisors and our clients will all benefit greatly from this new alliance."

CU Changes Name, Expands Field of Membership
Central Macomb Community Credit Union (CMCCU) has rebranded as FreeStar Financial Credit Union to better align with its new field of membership, which now encompasses 10 counties in Southeast Michigan and all military members throughout Michigan.
"Over the past year we have interviewed our membership and community, and researched the markets we serve to ensure the chosen name was a good fit for all," said Drema Isaac, President and CEO since 2002. "We sought to find a strong name that would carry us through many years to come. After a lot of deliberations, FreeStar Financial was born, with our symbol being an iconic and meaningful star."
The credit union established its roots in 1957 as a small, one branch credit union, located on Selfridge ANGB serving military members. "Throughout its 59 years in operation, the credit union has grown and with each milestone, a need to change our name to better fit those we serve arose."

Catholic Vantage Financial Hosts Free Document Shredding
Catholic Vantage Financial (CVF) will host a free document shredding day for the community on Saturday, April 23. The public is invited to bring personal papers and documents for shredding from 9am.-1 p.m. to the credit union's Plymouth branch located at 8817 Sheldon Road, at the northwest corner of Sheldon and Joy Roads.
"This is one of the ways we help people safeguard their identity and personal information," said Emma Teller, CVF's vice president of marketing and business development. "It also helps to reduce landfill and protect the environment."
Community Vantage Financial has also partnered with Two Men and A Truck in an annual Movers for Moms campaign to collect donated items for women at homeless and domestic abuse shelters in Metro Detroit. Collection boxes will be available in the credit union's Livonia and Plymouth branches throughout April and at the free shredding day event on April 23.
Items needed include personal hygiene products, linens, towels and underwear, along with diapers and wipes for infants and toddlers.
Go to main navigation