Head to Lansing This Week for GAC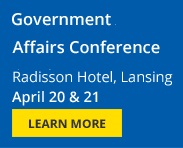 There is still time to register to be in Lansing this week, April 20 & 21 for the MCUL & Affiliates 2016 Government Affairs Conference.

Call (800) 262-6285, ext. 225 or email MCUL's education department to be there, be seen and be heard by legislators, and help represent Michigan's credit union members in the state capital. Want to know who has already committed to go? Click here to see a list of attendees.

Scholarships are available for SAS credit unions.
Go to main navigation