Meet Your Newest Members, 'The Jetsons'
MT. PLEASANT, Mich.—Remember the space-age cartoon family "The Jetsons?" One expert says credit unions need to be prepared to serve consumers in a Jetsons-like world.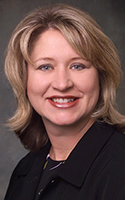 The financial services landscape is dramatically shifting as more and more financial institutions and retailers adopt high-tech mobile-service offerings and a new generation of consumers begins demanding banking services that look like something we might have seen in "The Jetsons." That's according to Amy Smith, vice president and executive director of The Clearing House Payments Authority, who delivered a keynote address at the Michigan Credit Union League's Spring Leadership Development Conference here.
"They don't ask for it, but they expect a 'Jetsons'-like experience," Smith said of Millennials. "They expect it to be very easy to interact with your credit union."
While most credit unions offer online banking, many still do not offer a robust mobile banking suite, and Smith advised credit unions to remember that young members want to do everything via their cell phones—even email is outdated to that generation, she said.
"These colorful characters, these young people that walk in in January in Michigan wearing flip-flops, they are your next members—are you prepared to serve them?" she challenged the crowd.
One factor that is leading to a new, modernized financial world is the shift toward chip- or EMV-enabled plastic, which many credit unions have already begun to roll out. Chip cards offer greater security against data breaches, and Smith highlighted the way that tokenization of purchases by chip cards—as well as functionalities like Square—are reshaping the payments landscape that consumers interact with every day.
Coming Soon: Real-Time Payments
Smith also briefly discussed her company's efforts to launch a real-time payments system to work alongside NACHA's ACH blueprint.
"Our foundation is old, it's weak, it's antiquated," she said, pointing out that European consumers have been using EMV-enabled cards for years and already have real-time payments systems.
So what can credit unions do? Smith implored credit unions to start having conversations—both among staff and at the board level—about where they stand with every level of payments, including mobile, EMV, same-day ACH and more. But those conversations have to be mirrored with a discussion about how they'll serve a new generation of membership.
She cited an Accenture study which found that 27 percent of young consumers would consider using a digital-only, branchless financial institution—as long as it's federally insured.
"Banking is no longer a proximity issue," she said, adding, "this what you're up against."
Go to main navigation