Inspiring Keynote at Annual Convention and Exposition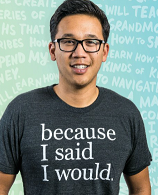 Credit unions are fulfilling a social mission every day to better their member's lives. Attendees at this year's MCUL/CUSG Annual Convention and Exposition are going to be introduced to an inspiring young man who is the founder of a social movement dedicated to the betterment of humanity.
Alex Sheen will be "Center Stage!" as the opening keynote speaker on June 9, sharing the importance of promises and the power of the words, "because I said I would." His fascinating story is certain to energize the audience and bring forth ideas of possibilities, as the credit union mission of "people helping people" and self-improvement ring clear through individual accountability.
The AC&E takes place June 9-11 at the Detroit Marriott at the Renaissance Center. The event is crammed with compelling training sessions, exciting networking opportunities and an engaging exhibit hall featuring expo vendors from across the country. Hotel rooms are still available; those with accommodation questions should email Janet Ormsby at the League for assistance.
Go to main navigation