Checking Account Growth at Michigan CUs in Line with National Trends
Two recent high-profile studies have confirmed what credit unions already knew: CUs continue to be consumers' best bet for banking services and saving money.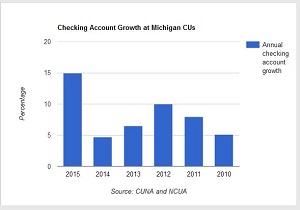 The 2016 Credit Union Checking Survey from Bankrate.com shows that 76 percent of credit unions today offer free checking, a four percentage point increase from last year and more than twice the rate of free checking available in the for-profit banking sector. Another 22 percent of credit unions are willing to waive monthly maintenance fees when members sign up for direct deposit or other e-services, Bankrate found.
Bankrate's study is based on an analysis of 50 of the nation's largest credit unions, including two Michigan-based institutions, DFCU Financial and Lake Michigan Credit Union.
According to data from NCUA Call Reports, Michigan saw 2.6 percent membership growth during 2015, mirroring 2014's growth but significantly up from years prior to that. Growth in share draft accounts (checking accounts) stood at a hefty 15 percent in Michigan last year, according to data from CUNA, up from 4.7 percent in 2014 and 6.5 percent in 2013. On average, Michigan credit unions have seen an 8.2 percent annual increase in checking account growth since 2010. The national credit union average for share draft account growth last year was 14.5 percent, and strong checking account growth in Michigan was just one area where credit unions in the Great Lakes State excelled during 2015.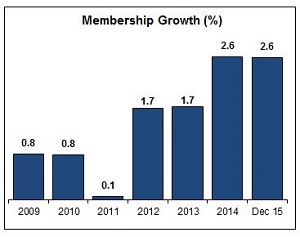 While credit unions join the banks in charging out-of-network ATM fees, the study noted that "more than one-third either have no fee for out-of-network withdrawals, or at least one fee-free withdrawal per month." And that's on top of the extensive nationwide network of credit union ATMs that allow members to access their funds for free from participating credit union ATMs.
Bankrate isn't the only site to show the benefits credit unions offer their members over traditional banks. A recent Money-Rates.com study found that the average American consumer pays $159 per year in fees at for-profit banks, with just 25 percent of banks offering free checking, according to the study.
Just think how much money they could be saving by banking at a credit union.
Go to main navigation