Lake Michigan Credit Union Launches 4th Annual $25,000 Home Makeover Giveaway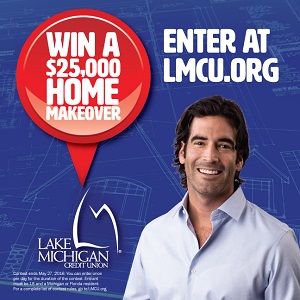 Lake Michigan Credit Union (LMCU) is pleased to announce the launch of its fourth annual $25,000 Home Makeover Giveaway, featuring LMCU spokesperson, Carter Oosterhouse. The sweepstakes launched March 1 and will run through May 27.
Last year's $25,000 giveaway generated more than 180,000 entries–submitted both online and by in-branch paper entries–and was won by Susan Geerling of Grand Rapids.
This year's giveaway can be entered online here, or personally at any LMCU branch location or ATM.
The $25,000 Home Makeover Giveaway is open to the public, and will conclude with a single grand prize drawing to be held in late May.
LMCU's promotional campaign will stretch across multiple media, including television, radio, print, outdoor, point of sale (POS), internet, search engine marketing (SEM), social networks and member communications.

LMCU's Senior Vice President of Marketing, Don Bratt, looks forward to partnering again with Oosterhouse. "We're very pleased to have Carter Oosterhouse onboard as our spokesperson. He's long been focused on improving people's lives by promoting lasting value with the right tools and innovative techniques. That philosophy is a solid, direct mesh with our focus on delivering value through superior products and services. This is a very natural partnership that we value a great deal."
Go to main navigation