Representation of Michigan CU Members Needed at State GAC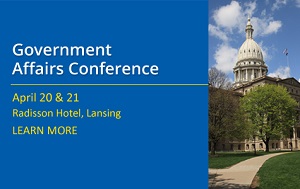 Now is the time to register for the MCUL Government Affairs Conference to represent credit union members in Lansing. The event takes place Wednesday and Thursday, April 20 & 21 at the Radisson Hotel and Anderson House Office building. Things kick-off with Dave Adams, CEO of MCUL & Affiliates, sharing recent league initiatives and discussing the importance of this year's GAC.
The first day's packed-agenda also includes "MCUL's Legislative Issues Update," "House Financial Services Committee Forecast," "Legislator and Staffer of the Year Awards," "PAC Fundraising Awards and Lunch," "Regulatory Update," "Inside Track for 2016 and Beyond," "Political Advocacy Panel," "2016 State and Federal Election Forecast," "Senate Banking Committee Forecast" and a "Legislative Reception with Senate Members."
The second day features a "Legislative Breakfast with House Members," "Federal Advocacy Priorities: Credit Unions on Capitol Hill" and a "Regulator Roundtable," with the event wrapping up prior to noon.
Registration is $149 per person for credit unions with assets over $50 million and $99 per person with assets of $50 million or less. A one-day only registration option is also available.
Go to main navigation