Hotel Rooms Still Available for MCUL/CUSG Annual Convention and Exposition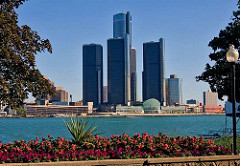 Excitement, insights, training and fun are awaiting attendees at this year's MCUL/CUSG Annual Convention and Exposition, being held June 9-11 at the Detroit Marriott at the Renaissance Center.
Plenty of hotel rooms are still available and are being held at a negotiated rate of $160 per night, plus taxes (single/double occupancy) until May 17. Attendees may book accommodations directly with the Marriott by calling toll-free (877) 901-6632 and mention either 'MCUL' or 'Mi Credit' to receive the conference room rate. Rooms may also be booked online.
Anyone having difficulty securing accommodations should simply email Janet Ormsby at the League and provide the attendee name(s), along with the arrival and departure dates, to receive further assistance.
Go to main navigation