Head to Lansing for MCUL GAC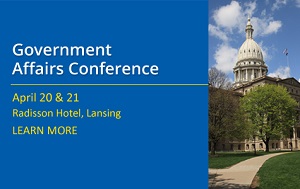 When credit union advocates gather in Lansing for the MCUL & Affiliates Government Affairs Conference, they will first receive a legislative issues update from the League, with an in-depth review of this year's state legislative priorities. The information will help participants understand key messages and talking points that can be shared with lawmakers during the legislative reception with Senate members and a legislative breakfast with House members.
The MCUL GAC agenda also features a 2016 election forecast from one of Michigan's best political minds, Bernie Porn of Epic MRA. He will share insights into the upcoming fall election, and what Michigan residents can likely expect in both the state and federal elections.
Also slated is a visit from Ryan Donovan, chief advocacy officer at Credit Union National Association who will cover "Federal Advocacy Priorities: Credit Unions on Capitol Hill". Attendees will get the latest news straight from Washington, D.C. and hear about federal legislative and regulatory initiatives, including data breach, regulatory relief, field of membership expansion and more.
This year, we are doing a breakfast with the members of the House of Representatives instead of a lunch. The breakfast will take place in the Mackinac Room in the Anderson House Office Building on April 21 from 8:00-9:30 a.m. We encourage each chapter to fill at least one table at the breakfast.
The MCUL GAC takes place April 20 & 21 at the Anderson House Office Building and the Radisson hotel in Lansing. Full conference registration is $149 per person for credit unions with assets over $50 million and $99 per person for those from credit unions with assets of $50 million or less. Scholarships are available for SAS credit unions.
Go to main navigation