MCUL Stands Up For Consumers As Senate Committee Considers Payday Lending Bills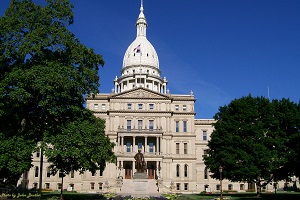 The Michigan Credit Union League is once again standing up for consumers, this time by fighting a vigorous attempt by payday lenders to expand their business interests in the state.
MCUL took part in a hearing last week on a pair of bills before the Michigan Senate Banking Committee that would change payday lending statutes and make consumers more susceptible to dangerous high-interest rate short-term loans. In 2014, MCUL led a successful campaign opposing the expansion of payday lenders in the state, but this latest round of legislation is timed to proposed rulemaking from the Consumer Financial Protection Bureau in Washington, which has had predatory lending in its sight for some time now.
"These bills would eliminate consumer protections currently in existence in Michigan today," MCUL VP of Government Affairs Kirk Hanna told the Senate committee. He shot down the payday lenders' argument that CFPB rules would hurt their ability to do business, noting that Michigan has had consumer protections on the books for more than a decade, and "payday lenders have still been able to operate quite profitably" since then.
"Credit unions all too often see the negative consequences of payday loans," said Hanna. "We have affordable alternatives—not just at credit unions, but many lenders have affordable alternatives that are a much better option for consumers."
With this legislation, said Hanna, "Payday lenders are trying to use smoke and mirrors to take advantage of those least able to afford it."
MCUL was joined in its opposition to the bills by a host of agencies and organizations from across the state, including the Community Economic Development Association of Michigan, Habitat for Humanity, the Michigan Catholic Conference and many more.
More information on MCUL's efforts to stop payday lenders in Michigan is available here and here.
Go to main navigation