In Brief...
Option 1 Credit Union's Volunteer of the Year Sarah Sherman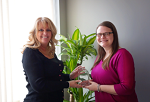 In the fall of 2015 Option 1 Credit Union developed a program that was designed to create an appreciation for its employees volunteering their time and to promote an awareness to give back to the community. The program has proved to be very successful and on Feb. 24, the credit union awarded its first volunteer of the year award to the employee who volunteered the most hours.
Sarah Sherman works in the training department at Option 1 CU and makes it a priority to volunteer whenever possible. She was quoted as saying, "Volunteering has always been a passion of mine and I am glad to have the opportunity to do so. I like that my work allows us to volunteer. It allows me to give back to my community and giving back to my community is extremely rewarding."
Option 1 CU is a strong believer that volunteering promotes the credit union philosophy of "people helping people."


Advantage One Federal Credit Union Expands Services to Include a Preferred Partner Program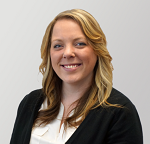 Advantage One Federal Credit Union announces the addition of a Preferred Partner Program to the list of services it offers. The Preferred Partner program provides companies with access to trusted, local experts who can help improve their employees' financial lives.

This financial wellness program includes exclusive employee discounts on banking products and free financial education covering topics such as: understanding credit scores, strategies to eliminate high-interest rate credit balances and ways to lower monthly payments.

Jessica Workman was promoted to the position of Business Development Director. Workman will oversee the Preferred Partner Program outreach and education within local business and community organizations.


United Federal Credit Union Names New President/CEO, Taps Terry O'Rourke for Top Spot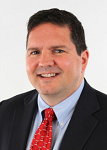 The Board of Directors of United Federal Credit Union announced it has hired Terry O'Rourke as its new President/Chief Executive Officer, effective March 7, 2016.
O'Rourke replaces current President/CEO Gary Easterling, who announced plans to retire last year. "We are very pleased for Terry to lead us through UFCU's next chapter," said board chairman Mike Hildebrand. "He will be a great leader for our team of employees as we seek and implement ways to enhance the financial experience of our members."
Bringing 25 years of leadership experience to UFCU, O'Rourke most recently served as the Chief Financial Officer of Lake Michigan Credit Union in Grand Rapids.
"It all starts with people, and I have seen firsthand the strong commitment to members that exists at Team United," O'Rourke said. "I'm looking forward to working with UFCU's forward-thinking board of directors and the knowledgeable employees who work with members in the communities we serve every day."


Zeal Credit Union Uses Team Building Skills to Help Forgotten Harvest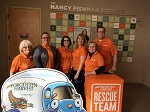 What does 10 thousand pounds of carrots look like? The marketing team at Zeal Credit Union knows. On a recent Friday afternoon, this team worked as volunteers at Forgotten Harvest, in Oak Park, to repackage large crates of fresh carrots into grocery bags.
Forgotten Harvest is a Detroit area non-profit that rescues surplus, prepared and perishable food that is distributed to emergency food providers to help feed the hungry.
"It was a fun team building project and made us feel good to do charitable work for such a worthy organization," said Lisa Fawcett, vice president of marketing for Zeal CU. "We got a kick out of the fact that they had us packaging carrots, and we were all dressed in our 'Zeal orange' logo wear for the occasion."
Fawcett added that Forgotten Harvest receives a variety of perishable food like carrots, potatoes and other items and counts on volunteers to help repackage them for distribution.
Founded in 1990 to fight hunger and waste, Forgotten Harvest services Wayne, Oakland and Macomb Counties, and is currently the nation's largest food rescue organization.



LAFCU CEO Robin Frucci Announces Retirement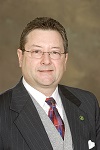 LAFCU CEO Robin Frucci has announced he will retire effective March 31, ending a credit union career that has spanned more than 30 years. The individual chosen to succeed Frucci will be announced March 15.

Frucci began his career in lending at LAFCU in the 1980s, moving to Educational Employees Credit Union, now Educational Community Credit Union, Kalamazoo, in 1991 as vice president of lending. In 1995 he was named CEO of OMNI Family Credit Union, now OMNI Community Credit Union, Battle Creek, and in 2005 he rejoined LAFCU as CEO.

"Robin is a stalwart credit union advocate, and his decades of contributions will long be felt in our credit union, our state and our industry," said Harold Foster, chairman of LAFCU's board of directors. "We will truly miss his rare combination of intellect, patience and dedication."
OUR Credit Union Branches Out to Warren
OUR Credit Union's board of directors and staff are excited about their new branch that opened Feb. 1 in Warren. The new location provides consumers with private parking, drive-up ATM and night drop box access, three drive-thru lanes, safe deposit boxes and self-serve coin machine. The new location is at 5625 Twelve Mile Rd, just west of Mound.

The new branch replaces the credit union's original branch on Bellaire Ave in Royal Oak due to new development in the surrounding area. OUR CU is excited to give current and future members a new branch location that allows them to continue to provide personalized, friendly and efficient service.
Go to main navigation