Board Insights Explored at Spring Volunteer Conference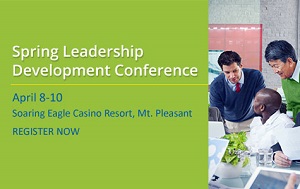 When credit union volunteers and executives gather for the MCUL & Affiliates Spring Leadership Development Conference, Apr. 8-10 at the Soaring Eagle Casino & Resort in Mount Pleasant, they will have a variety of hot topics, current trends, board insights and visionary issues to explore on the agenda.
Of interest to many is an included two-part workshop on "A New and Improved Board: Effective Leadership" that covers the NCUA's core expectations for credit union boards and discusses the role they play in the big picture, as well as day-to-day operations. Valuable tips and tricks will be shared to help keep boards on track with things like Robert's Rules of Order, consent agendas and much more.
Also attracting many individuals to the conference is a session on "Bank Secrecy Act for Board Members" that explains the responsibilities of credit union leaders to oversee the important regulatory compliance of the Bank Secrecy Act. This rule requires financial institutions to assist U.S. government agencies by keeping certain records of transactions and by reporting suspicious activity that might signify tax evasion or other criminal activities.
CUSG is offering a new pre-event workshop with separate registration on Apr. 8. "Springboard: Helping New and Future Board Members Dive In" is designed to keep board members aware of their fundamental roles as a volunteer, and is an ideal refresher for seasoned directors as well. Topics presented include CAMELS rating system, financial statements and more. The 1/2-day pre-event workshop is $199 per person and includes a light lunch buffet.
Registration for the Spring Leadership Development Conference is $399 per person for the first four attendees; five or more are $350 per person. Guests are welcome to join attendees and meal tickets are available.
Go to main navigation