Community Financial Awards $5,000 Through "Blue & Black Gives Back"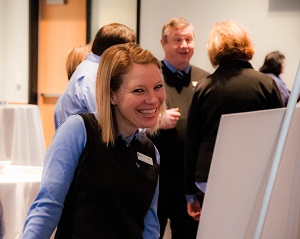 Team members at Community Financial Credit Union (CFCU) recently selected three worthy organizations to receive a financial donation through "Blue & Black Gives Back." The program, named for the brand colors the team wears, was started in 2015 as a way for team members to have input on which charitable organizations they think deserve a donation.
Nominations were submitted during the last week of January and team members then voted on which organization should receive the first place prize of $2,500. This year's top winner was Flint Child Health, a fund that is supported by the CFCU of Greater Flint. In response to the recent water crisis in Flint, this children's initiative was created to be used for critical interventions today and well into the future. To learn more about Flint Child Health visit here.
The second place prize of $1,500 was awarded to the 4H Adult to Youth Mentoring of Montmorency County. Youth in local communities need mentors because of many factors including: peer pressure, child abuse and neglect, depression and suicide, substance abuse, school safety and violence, career exploration and social management. This program pairs adult mentors with youth in the community. To learn more about this organization please visit the Adult to Youth Mentoring website.
In addition, the team selected the P.B. & J. Outreach in Plymouth for the third place $1,000 donation. P.B. & J. (Peanut Butter and Jelly) Outreach, Inc. is a non-profit organization focused on feeding and clothing the poor and marginalized living in the Detroit metropolitan area. To learn more visit here.

"CFCU is honored to assist these organizations in their goals to help those in our communities," said Community Relations Manager Natalie McLaughlin. "The team at CFCU is always looking to help where we can."
Go to main navigation