Filer CU Kickstarts Fund Drive to Secure Local Classrooms
Manistee schools could soon be safer thanks to one Michigan credit union.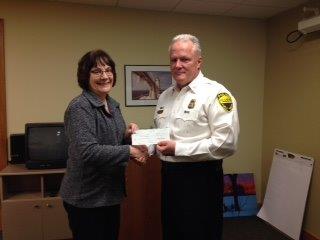 Filer CU CEO Patty Preuss presents a donation check to Manistee Public Safety Director Dave Bachman.
Filer Credit Union recently donated $200 to an effort by Manistee Director of Public Safety Dave Bachman in order to install Nightlock security devices on all classroom doors in Manistee area schools.
Filer CEO Patty Preuss explained that when she read about the effort she immediately wanted to get the credit union on board.
"I sent him a message on Facebook and said 'We've got some money for you, let's get this fundraising started,'" she recalled.
Nightlock devices can be installed on classroom doors and can be activated by teachers to help keep students secure in the event of active-shooter situations at schools. The company advertises that Flint-based Kettering University has tested the locks to determine that they can withstand up to 1,100 pounds of direct force.
Preuss said studies have shown that school shooters will bypass difficult targets in favor of easier ones, and will move on to a different door if one room is inaccessible.
"The theory is that if we block these doors with these devices, it protects our children," she said. "It's one line of defense to protect our kids."
While each Nightlock normally costs $49, Bachman has secured them for $39 each. However, with the ultimate goal of securing every classroom door in the area, there is plenty to be raised beyond Filer's donation. According to Preuss, Bachman said it could cost as much as $2,000 just to put the devices into the city's two elementary schools
Bachman has discussed the project on local radio and secured donation pledges from community members and city council members, and Preuss said she believes the credit union may still add to its initial contribution.
"We told them to come back if they need more," said Preuss, adding that Filer's membership supports the effort, though the credit union is not currently seeking donations from members. Bachman has posted information on his Facebook page about how community members can donate. Organizers hope to have all schools in the city equipped with Nightlocks by the end of this school year, with all schools in the county equipped by the time school starts in the fall.
"We can sponsor fun things in the community—festivals and stuff—but we've got to protect our kids," said Preuss. "We can't really sponsor beer fest and wine fest and fun events before we do this."
Go to main navigation