Mergers, Policies and Exam Process -- Current Trends at Spring Conference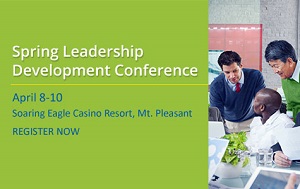 The MCUL & Affiliates Spring Leadership Development Conference will be presented April 8-10 at the Soaring Eagle Casino & Resort in Mount Pleasant. It offers a great selection of training for both new and seasoned volunteers and executives.
The conference features a variety of breakout sessions, including a series of current trend topics such as "To Merge or Not to Merge, that is the Question" that will explore the questions that need to be asked and answered when considering a merger.
Also slated as current trend topics are "Setting Policies at the Board Level." This session will provide an overview of resources available to assist a board in ensuring policies are compliant. The "Examiner's 'Take' on the Exam Process" will look at how a credit union's board is integral to an institution's safety and soundness and how they should be involved in the examination process.
"Embezzlement: What it Means to Board Members" has also been added to the agenda and will be presented by John Kolhoff from the Office of Credit Unions.
The Spring Leadership Development Conference opens with a new workshop being offered by CUSG on Friday, April 8. "Springboard: Helping New and Future Board Members Dive In" priced separately at $199 per person.

Registration for the Spring Leadership Development Conference is $399 per person for the first four attendees; five or more are $350 per person. Guests are welcome to attend and purchase meal tickets, as well as participate in a complimentary Bingo activity on Saturday afternoon.
Go to main navigation