LOC FCU Holds Teen Financial Reality Fair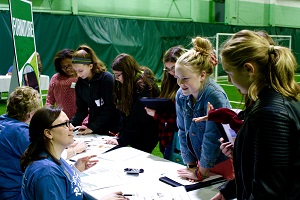 On Dec. 22, 2015, LOC held its first Teen Financial Reality Fair, brought to you by America's Credit Unions with support from the Michigan Credit Union Foundation. The fair took place at the Total Sports Complex in Farmington, next door to LOC.
Thanks to the help of more than 20 volunteers, 90 students from schools in Farmington, Farmington Hills, Livonia, Novi and other nearby communities were able to participate in this event.
Prior to attending the fair, students selected a career and its average yearly salary. Upon arrival, they received a budget worksheet with the gross monthly salary, the month's tax breakdown and their net monthly salary. Students were responsible for using those funds to budget a month's worth of expenses.
Upon visiting each station, students were required to choose from multiple options. Whether it was selecting a used or new car, dining out multiple times per week or living in a one or two bedroom apartment, students had to choose things that allowed them to stay within their monthly budget. This provided students a crash course in practical budgeting and demonstrated just how expensive certain items can be. Ultimately, the goal of each student was to pay their monthly expenses and set aside a certain amount in savings without living beyond their means.
"I thought this was the most well-run financial event of its kind I have ever seen," said Larry Kabrick, one of the volunteers from the event.

After the fair, the students took a survey about what they had learned while there. "Watch your credit card," said one student. Another added, "Learn what you can go without!" A third student commented, "Save as much as possible."
Go to main navigation