Alliance Catholic Credit Union is Giving Away Thousands in Scholarships and Grant Aid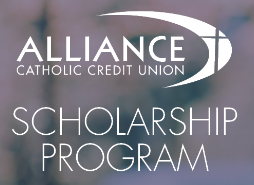 Alliance Catholic Credit Union is giving away $10,000 in scholarships and $5,000 in Parish Partner Youth Group Grants this spring. The Scholarship Program and the Parish Partner Youth Grant Program for 2016 are two ways of recognizing members who dedicate their time and talents toward helping others.
Alliance Catholic CU initiated the Scholarship Program to award educational scholarships to students and families who are committed to making a difference in the lives of others through community service in their school, parish and/or community. Twenty-five one-year educational scholarships, totaling $10,000, will be awarded this spring to selected Alliance Catholic CU members.
Families and students can apply for one of four categories of scholarship allocation:
1. Catholic School Families, for those in primary or secondary Catholic schools
2. Catholic School Families (8th-11th grade)
3. High School Seniors
4. College Students
Applicants can obtain a complete list of eligibility requirements and an Application Packet by visiting the credit union's website. All scholarship applications are due by 5pm. on Monday, April 18.
To recognize youth ministry programs, the Parish Partner Youth Grant Program provides financial support to Alliance Catholic CU parish partner youth groups by assisting them in fulfilling educational and/or charitable needs within the Catholic community on a bi-annual basis. Twenty Catholic parish partners of the credit union will be selected to receive a $250 grant for their parish youth group project.
Youth Grant Program award criteria and eligibility information here.
Go to main navigation