MCUL's 2016 CRI Showcases Positive Work Credit Unions Do Throughout Michigan
Whether it's providing low-cost financial services to underbanked and low-income consumers, providing a start-up loan for a new small business, or offering scholarships so deserving students can pursue higher education, Michigan's credit unions are deeply connected to the communities they serve.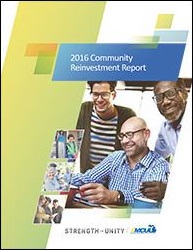 The Michigan Credit Union League's 2016 Community Reinvestment Initiative (CRI) highlights many of the feel-good projects credit unions all across Michigan. That means tying credit union business loans to the jobs those loans create. Or illustrating how Michigan credit union lending meets—and in many cases beats—national lending trends. And placing real dollar values on the benefits Michigan consumers and their communities get through credit union membership.
The credit union movement can be summed up simply as "people helping people," and our 2016 CRI highlights the numerous ways credit unions throughout our state continue to do just that. To read more and download the 2016 CRI, click here.
Go to main navigation