Michigan CUs Set to Boost Consumers' Financial Fitness on 'Show Me the Money Day'
Credit unions from all over Michigan are pitching in help improve consumers' financial lives thanks to Show Me the Money Day, an annual event currently taking place in communities across the state.
The event takes place on various dates and will occur in the Greater Lansing region on Sat. Feb. 20, with a trio of Lansing-area credit unions taking part.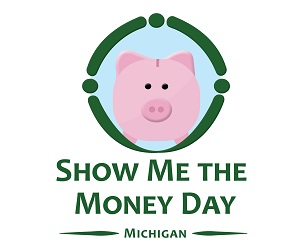 Michigan State University FCU (MSUFCU) plans to have a table at the event to discuss products and services the credit union offer to members, and other opportunities available to MSUFCU members. The credit union will also be teaching a workshop on understanding credit reports, with two representatives from MSUFCU's financial education department leading that session.
VP of Marketing & Communications Deidre Davis explained that the event is an opportunity to help consumers—particularly the underbanked and low-income consumers—gain more information about money management in a "safe, secure, non-threatening environment where they can ask questions."
Davis added that her credit union is not concerned about whether or not Show Me the Money Day participants are eligible to join MSUFCU.
"Whether or not someone can join is not why we participate," she said. "Rather, we're creating a stronger community by being a part of events like this. Regardless of if someone becomes a member, we know we're helping the community in a positive manner."
Soo Co-op Credit Union in St. Ignace participated in a Show Me the Money Day in January, and Director of Member Education Mary Lynch said that while the event was not widely attended, she was able to offer information to attendees on issues related to credit reports and credit monitoring, along with offering brochures and other information about the credit union to members of the community who attended.
Despite limited participation from the community, Lynch said she would definitely take part again, and encouraged more credit unions to get involved.
"To make the most of it, I would definitely participate in the education sessions," she said. "If those particular Show Me the Money Day sites have an opportunity like that, I would do whatever you can."
Escanaba-based U.P State CU also participated that day, and COO Darcy McLean said her credit union tried to show consumers the value of the credit union difference.
"It's definitely worthwhile to take time out to display what you have," she noted. "Even if you can just help one person, show them the credit union difference and how credit unions are working for their members."
CASE Comes Back for More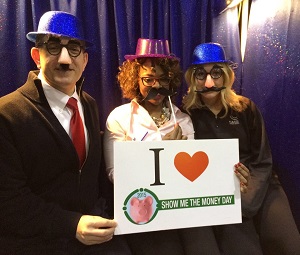 Lansing Mayor Virg Bernero, left, participated in 2015 Show Me the Money Day, along with CASE CU representatives Porsche and Samantha.
A few hundred people are expected at the Lansing-area event, and CASE CU will be participating for the third year in a row.
Community Engagement Manager Porsche Miles-Grant said that not only is it an opportunity for the credit union to introduce itself to members of the community who may not be familiar with CASE, but it gives the credit union a chance to serve as a valuable resource for the community.
"As community engagement coordinator, my main responsibility is to help people become financially literate," she said. "What I really end up getting out of this is that we get individuals who learn things that they never knew before.
I think this event really goes beyond the day.
It helps the community see all the different resources that are available in Lansing. It lets them see who really cares about them and who's trying to help them rather than who's just out to get their money."
Go to main navigation