ECCU Donates 4,000 Bottles of Water to Flint Residents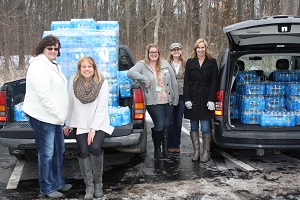 The Flint water crisis is hard for anyone to wrap their head around, and for one Educational Community Credit Union ECCU employee, it hit close enough to home to spark a donation of 4,000 bottles of water.
Branch Assistant Rebecca Williams couldn't fathom what her friend, who lives in Flint, had been posting on Facebook: her three-year-old daughter had been in and out of the hospital with severe infections, high fevers, even brain surgery–all as a result of the water crisis.
Williams, a mother herself, wanted to help. "I didn't know how else to help the people of Flint other than donating clean water," she said. After seeing an incredible deal on bottled water at a local warehouse chain and catching a news clip about a local company, Sleep Doctor, collecting and delivering water to Flint, she went to ECCU's Caring Committee to ask if they could help.
The Caring Committee, comprised of seven staff members who volunteered to coordinate the annual fundraising efforts among the credit union's employees, immediately sprang into action and purchased 100 cases of bottled water with money from their annual fund. Together, they loaded a truck and van with the cases and delivered them to Sleep Doctor, which has trucks moving across the state each day.
"It makes me feel good to be able to help out in some way, and to work for an organization that so willingly helps others," Williams expressed. "It warms my heart knowing that we were among so many other organizations in the community to donate water to those in need."
Jennifer Kovick, ECCU Caring Committee Chair, agreed. "To see all of the businesses and schools and churches rally to support people suffering from the water crisis on the other side of the state is really an amazing thing. It's moments like these that restores your faith in humanity."
Go to main navigation