One Credit Union's 'Do's and Don't's' for Giving Back
KALAMAZOO—A "giving back" campaign at Michigan Schools and Government Credit Union (MSGCU) was so successful last year that it has been brought back again for 2016.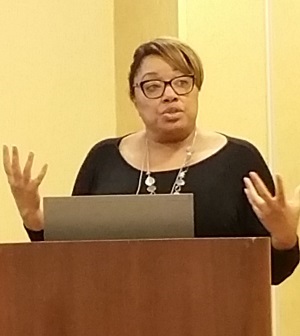 Jeanette Driver, MSGCU
Speaking at MCUL's Lending and Marketing Conference earlier this week, two MSGCU representatives explained that beginning in January of 2015, the credit union kicked off a campaign to celebrate its 60th anniversary by donating $12,000 among a dozen local charities, with each of its 12 branches selecting a charity.
"Because we did have 12 branches, what's important to one community may not be as important to another," observed Jeanette Driver, business development and community relations manager at MSGCU. She added that this structure gave each location an opportunity to focus on causes that are important to them. As such, everything from children's organizations to animal shelters were chosen, along with police and firefighters' groups, which have ties to the credit union's heritage.
Marketing Manager Cathie Rourke explained that one way the credit union got the word out to members was by posting photographs of the staff promoting the initiative, which in turn made the membership curious about the good work the credit union was doing, including asking how they could help and donate.
Not only did the project get members fired up, said Rourke, but it excited employees as well.
"While we wanted them to become engaged, because we wanted them more engaged in their communities, it also worked the other way—when they came back to the office, the enthusiasm was palpable," she said, adding that employees enjoyed representing the credit union out in the community.
Not only did the campaign help the community and generate coverage from several media outlets, it also earned the credit union a Dora Maxwell Social Responsibility Community Service Award.
A Campaign So Nice They Ran It Twice
With a successful 2015 under its belt, the credit union has jumped right back in for another year, having recently launched a website for the campaign's 2016 iteration.
What follows are a few of the major lessons MSGCU learned last year, according to Driver and Rourke:
Know which charities are on board and be able to explain to potential participants why the partnership can benefit them
Ensure that each participating charity is willing to accept funds from the credit union—and know how they plan to use those (with an eye toward keeping the money in the local community)
Make sure clear guidelines are in place both for branches and potential partners, including the types of causes you're looking to support, keeping it local, finding projects that are directly impactful in the communities around the branches and more
Have clear goals about which chartity you want to benefit and what you expect to give and get out of the relationship. "The goal is to have long-term relationships," said Driver, "not just give money and be done with it."
It's a long-term effort, so consider possible staffing changes and their implications when working on a branch-by-branch level like this
The most important rules for a project like this, said Driver and Rourke, are to have fun and be flexible.
"It won't go according to plan," said Rourke. "You've got to be optimistic, you've got to be open and you've got to learn as you go."
Driver said that because the total money donated was only $12,000—barely even a drop in the bucket—there were no concerns about determining ROI on this project. Not only was it a great opportunity to create sustained relationships, she added, but the credit union was subsequently able to provide some consumer education to some of the participating charities.
More coverage from MCUL's Lending and Marketing Conference is available here and here.
Go to main navigation