In Brief...
A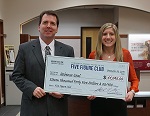 dvantage One Federal Credit Union Reports Record Performance
At the end of last Dec., Advantage One Federal Credit Union's loan portfolio hit a record-high of $69.7 million, representing phenomenal growth of $14.6 million or 26.5% over the prior year. In addition to three consecutive years of sustained loan growth, the credit union continued to reach unprecedented levels in net worth, share deposits and overall earnings in 2015. Advantage One FCU ended the year with total assets of $126 million, an increase of 8.4% over the previous year.
"With record-high achievements across all areas of the credit union, we couldn't be more thrilled with the performance of our entire team," states Chris Corkery, CEO of Advantage One FCU. The credit union pursued an aggressive loan growth strategy in 2015, which included educating members on how to raise their credit score, lower their monthly payments and eliminate high interest debt. It has been a win-win-win benefitting the credit union, its employees and members.
In addition to posting exceptional financial performance numbers, the credit union paid out record-high incentive pay to its staff. "We believe in rewarding our team for their performance. We set some very high goals for 2015, and our staff rose to the challenge and their efforts did not go unrewarded," said Corkery. Financial Solutions Partner Becky Seal, received more than $11,000 dollars in incentives for her contributions to the credit union's success.

Dort Federal Credit Union Members Raise $14,000 for Two Local Charities
Dort Federal Credit Union members and staff raised over $14,000 during their 2015 holiday "Make a Snowman Smile" campaign. During the campaign members and staff purchased snowmen for $1.00, $5.00, $10.00, $25.00, and $50.00. The charitable recipients were The Humane Society of Genesee County and Whaley Children's Center. This year's proceeds were divided between the two groups who each received more than $7,000.
For the six-week campaign, all Dort FCU offices collected contributions for the two local charities from their membership of more than 60,000 members, who showed an abundance of generosity for those in need residing in their local communities. For more information on this year's charities, visit here.

Credit Union Collection Consortium
The Credit Union Collection Consortium will host speaker Michelle Anzaldi on Feb. 10, from 2-4pm. at Zeal Credit Union. Anzaldi, Zeal's staff attorney, will discuss Small Claims Court from her years of creditor experience at the district court level. This is an opportunity for credit unions to learn how to cost-effectively pursue debts under $5,500 and when best to use your attorney. Zeal is located at 29550 Five Mile Road in Livonia. Attendance is free and all are welcome. For directions or questions, call Julie Hoff at 734-466-6115.

Michigan Business Connection Announces Hiring of Heather Converse and Liz DeSloover
Michigan Business Connection (MBC) in Ann Arbor has hired Heather Converse, Documentation Specialist and Liz DeSloover, Senior Loan Servicer. Together, they bring almost 20 years of financial experience to MBC.
Bill Beardsley, President/CEO of MBC noted, "We are excited to welcome Heather and Liz to our team here at MBC. We expect their transition to MBC to be met with much success and look forward to watching their careers continue to grow."
Heather Converse began her career in 2006, working at TCF National Bank, Bank of Birmingham and 1st National Bank of Howell. While she has a diverse background, her main focus has been Commercial Loan Documentation, Operations and Audit. Heather has an Associate's Degree in Graphics and Web Design. In addition to working to complete her Bachelor's Degree in Finance at Walsh College, Heather serves as program chair on the Women's Council of Washtenaw County, mentoring young women who are preparing for college.
Liz DeSloover's financial services career started at Monroe Bank and Trust as a teller in 2008. Following a promotion in 2011, Liz joined MB&T's Loan Servicing department as the General Ledger Representative. In early 2012, Liz became the Loan Servicing Department Assistant Manager. While working at MB&T, Liz graduated with a Bachelor's Degree in Business Management, with a focus in Human Resources. As a Senior Loan Servicer at MBC, Liz will focus on all daily loan activities.

MSGCU Opens Newest Branch at Eight Mile and Farmington Roads
Michigan Schools and Government Credit Union (MSGCU) is pleased to announce the opening of its newest branch, located at Eight Mile and Farmington Roads in Livonia, near the Farmington border. This office will be the 12th MSGCU branch in southeastern Michigan and the first in Wayne County.
"This location is a convenient destination for a number of vibrant communities, including Farmington Hills, Livonia, and Northville," said Pete Gates, MSGCU President and CEO. "We are looking forward to serving our members in the area and welcoming new ones."
The Eight Mile and Farmington office features drive-thru lanes easily accessible from either crossroad, a coffee bar and 24-hour access to the drive-up ATM. Additionally, MSGCU offers members a call center, more than 30,000 surcharge-free ATMs in the USA and Canada, free online and mobile banking and more. MSGCU also offers extended weekday and Saturday hours at all 12 of its locations.

Vibe Credit Union Staff Gives Back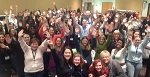 Vibe Credit Union, named the 2015 Best Local Bank/Credit Union by Metro Times Detroit, this month donated $6,000 to three area non-profit organizations: Big Brothers and Big Sisters of Metropolitan Detroit, the Salvation Army's Bed and Bread Club, and Loaves and Fishes Southwest Detroit. Vibe CU employees chipped in a few dollars every casual Friday last year to raise the money.
"Just as we are dedicated to amazing member service, all of us value giving back to the communities where we live and work," said Vibe CU CEO Tom Reagan. "It's very much a part of the culture here."
See more of Vibe's community stories on Facebook.
Go to main navigation