MCCU's 'CU in School' Program Welcomes Kindergarten Students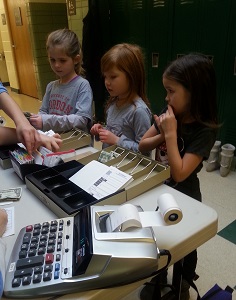 Marshall Community Credit Union's CU in School program is now open to kindergarten students at participating schools.
MCCU's CU in School program consists of eight student-run credit union branches, open weekly, at participating schools for all students, teachers and staff members. Participating schools include Marshall Academy, Mar Lee, Marshall Middle School, Marshall High School, Hughes Elementary, Gordon Elementary, Walters Elementary and Wattles Park Elementary.
"We are excited to open our program up to kindergarten students at Mar Lee, Hughes, Gordon, Walters and Wattles Park," said MCCU's financial education coordinator, Andrea Tucker. "These students will become some of our youngest members, and as a parent of a kindergartener and third grader myself, I understand the importance of teaching our kids good savings habits and healthy money management skills at an early age," continued Tucker.
All students at the eight MCCU participating schools are encouraged to participate in CU in School and start their very own savings accounts. CU in School is designed to help school-age children learn valuable money management skills along with how to set and achieve financial goals. With a CU in School membership, students will receive a savings folder and dividends paid to their account monthly, just like all credit union members. CU in School members also earn incentives for saving and meeting goals and are invited to all MCCU youth events. To sign up for CU in School, parents must fill out and return a CU in School application available on MCCU's website and in the school office.

For more information about the CU in School program, contact Andrea Tucker, MCCU Financial Education Coordinator, at 269.781.9885 or by email.
Go to main navigation