Preserve the CU Difference with MCUL Lapel Pin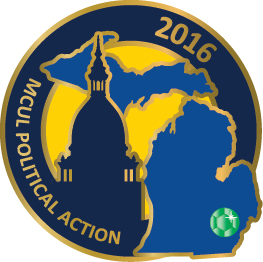 The state PAC lapel pin program is the top funding source for MCUL & Affiliates' political efforts to support credit union-friendly candidates and create a positive change for credit unions in Michigan. The league encourages credit union participation in this important program. The purchase of a pin is critical to ensure that we have the necessary resources to support credit union-friendly lawmakers in Lansing.
Lapel pins accounted for nearly two-thirds of all the money raised for the state PAC in 2015. It's never been easier to reach the credit union's 2016 state PAC fundraising goal than by offering a 12- or six-month payroll deduction program to your employees. The ability to split up your contribution throughout the year makes purchasing a pin easier than ever. Payroll deduction forms, along with the one-time contribution forms, can be found on MCUL's Lapel Pin webpage. The website also provides you the opportunity to make a donation online.

Wearing your lapel pin is a symbol that you personally are committed to preserving and protecting the credit union difference. Any questions regarding the lapel pin program can be directed to Political Affairs Coordinator Haleigh Krombeen or 1-800-262-6285 ext. 459.
Go to main navigation