Visionary Topics for Volunteers and Leaders at Spring Conference
With a new later date to better accommodate returning snow birds, the MCUL & Affiliates 2016 Spring Leadership Development Conference features a great line-up of topics and insights to keep credit union directors and executives well-informed. The event returns to the popular Soaring Eagle Casino & Resort in Mount Pleasant, Apr. 9-11.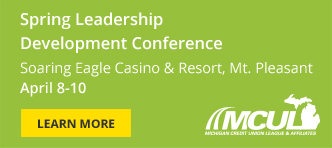 This year's agenda features visionary topics including: "Apple Pay Genius Bar: What Why and How" to better understand the roles for credit unions to take to enable members to use mobile devices for payments; "Embracing Cloud Technology to Grow Membership and Profitability" to better understand why credit unions must embrace secure cloud services in an effort to better support both its employees and members, while driving down costs and increasing profitability; and "Making a Difference with Community Projects and Grants" to share best practices and discover funding and partnership assistance to increase impact for credit unions of all sizes.
Included in registration is an optional two-part workshop on "A New and Improved Board: Effective Leadership" that covers an in-depth look the NCUA's core expectations for credit union boards and discusses the role the board plays in the big picture, as well as day-to-day operations.
Those interested in arriving early on Friday, Apr. 9 may also opt for a new pre-event workshop being facilitated by CU Solutions Group for $199 per person. "Springboard: Helping New and Future Board Members Dive In" will walk new and future board members through the fundamentals of their role as a volunteer, and is an ideal refresher for seasoned directors, too. It will take place from 1-4 p.m., with check-in and a light lunch buffet beginning at noon.
Information about the Spring Leadership Development Conference was recently mailed to all affiliated credit unions and hotel rooms may be secured now. Registration is $399 per person for the first four attendees; five or more are $350 per person. Guests are welcome to join attendees and purchase tickets to attend meals; a complimentary bingo activity is also available on Saturday afternoon.
Go to main navigation