Credit Unions Invest in Compliance at League Conference
With ever-changing compliance rules, dozens of Michigan credit unions are making an investment in their financial institutions by registering staff to attend the MCUL & Affiliates 2016 Compliance Conference. The event follows the League's Lending and Marketing Conference, and will be held Feb. 11 & 12 in downtown Kalamazoo at the Radisson Plaza Hotel.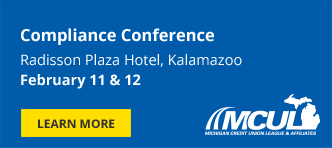 Previously a one-day conference, the important need for delivering this training has expanded it into a two-day conference format. This year the event kicks-off with a focus on Cybersecurity, including sessions on: "There is No Gambling with Member Data!," "Cybersecurity Exam: Examiners Perspective", "Building Effective Internal Cyber Policies and Procedures," "FFIEC Cybersecurity Self-Assessment" and "Third Party Technology Contracts: Understand the Risk".
The second day of the conference is packed full of a wide range of timely credit union compliance issues that explore FCRA, HMDA, Military Lending Act, top questions received by the League's Compliance Hotline, restrictions on obtaining credit reports and many useful compliance resources.
Registration is $360 per person for two days and $199 per person for a single day. Limited hotel rooms remain available and attendees are encouraged to register and book accommodations soon.
Go to main navigation