Delivering the Millennial Experience at Lending and Marketing Conference
Energy and excitement continue to build with more than 150 Michigan credit union professionals registered for the upcoming MCUL & Affiliates 2016 Lending and Marketing Conference. Two complete agendas combine into one terrific conference, all taking place Feb. 9 & 10 at the Radisson Plaza Hotel in downtown Kalamazoo.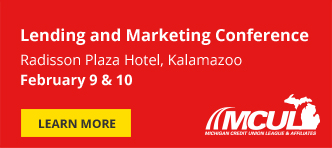 Over 30 sessions and two dozen speakers are slated, including Benjamin Puffer, a senior trainer for Advia Credit Union, who will speak on "Delivering the Millennial Experience: How to Engage Generation Y". Puffer will discuss how the Millennials surpassed Baby Boomers in 2015 as the largest group of the U.S. voting population and as Boomers transition into their well-earned retirement, the role that Millennials will take as the focal group for marketers, lenders and managers. Puffer's session will explore who the Millennial Generation is, what is important to them, what they expect from credit unions and how to engage them with credit unions on multiple levels.
Another insightful presentation on the event agenda will be "How to Differentiate Credit Unions in a Crowded Lending Space". Don Arkell, a consultant with CULendingAdvice, will explain how lending is becoming a commoditized business and discuss how to keep top-of-mind with members with loans, while still earning yield. He will offer proven tips on how to keep members coming back time and again, even if they can get loans anywhere, and will share the greatest competitive advantage that top performing credit unions have, even when they don't offer the best rate.
Registration is $360 per person for two days and $199 per person for a single day. Limited hotel rooms remain available and attendees are encouraged to register and book accommodations soon.
Go to main navigation