Mark Your Calendars for 2016 Government Affairs Events
There are several upcoming events where credit union supporters can add their voice to support the movement or raise money for the cause.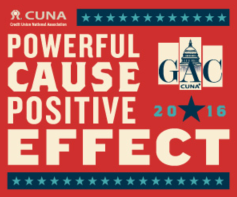 2016 CUNA GAC, February 21-25
Registration is still open for the 2016 CUNA GAC, taking place at the Washington Convention Center in our nation's capital. The GAC will once again feature a full program of nationally recognized speakers, exhibits, and Capitol Hill visits with federal lawmakers and their staff. The MCUL & Affiliates' CUNA GAC website has information on the hotel, tentative event schedule, a list of Michigan specific events, registration, as well as links to CUNA's GAC website for additional information.

MCUL GAC, April 20-21
Consider participating in the 2016 MCUL GAC at the Anderson House Office Building and the Radisson Hotel in downtown Lansing. This important credit union event will address several current legislative and regulatory issues facing Michigan. Participants will have an opportunity to talk with lawmakers from their region at the legislative luncheon. The agenda will also feature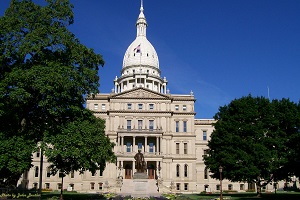 sessions and panels that will keep attendees up to date on the latest state legislative and regulatory issues. Credit union employees of all levels are invited to participate. This low-cost grassroots event is both informative and impactful.

ASFM Golf Outing, July 20
This year's "A Stronger Financial Michigan" Golf Outing is set for July 20 at the Forest Akers Golf Course in East Lansing. For the 15th year, Michigan credit unions will take to the course to raise scholarship money for the ASFM Michele Myrick Scholarship Fund. The scholarship fund provides financial assistance to participants of the MCUL & Affiliates Hike the Hill and the CUNA GAC grassroots lobbying trips to Washington.

Hike the Hill, Sept. 28-29
MCUL & Affiliates has scheduled its 16th Annual Hike the Hill grassroots lobbying trip to Washington on September 28 & 29. Participation in this year's Hike the Hill is more important than ever as the focus remains on issues including federal field of membership, regulatory burden, data breach liability, GSE reform, and credit union federal income tax exemption. Hike the Hill provides a great, low-cost opportunity to make an impact on federal legislative and regulatory policymakers during meetings and Capitol Hill visits. There is no registration fee for Hike the Hill.
Go to main navigation