In Brief...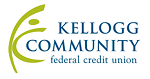 Kellogg Community Federal Credit Union Announces College Scholarships
Kellogg Community Federal Credit Union announces they will be awarding five $1,000 scholarships to students seeking higher education in the Fall of 2016. High school seniors, high school graduates returning to or attending college for the first time, and students pursuing a degree or certificate in the trades are encouraged to apply. The scholarships will help cover tuition and admission fees to any accredited college or university within the state of Michigan.
KCFCU is committed to providing members with financial opportunity, choice and lifelong value. They believe in 'people helping people,' and stand behind the principles that promote personal development and social responsibility. Offering scholarships is a way KCFCU is assisting young members with the increasing cost of higher education and reinforcing its commitment to the financial success of their members. This year marks KCFCU's 28th year of providing scholarships to local students.
Scholarship applicants must be planning to attend college on a full time basis with a minimum of 12 credit hours. Applicants must be a member of KCFCU. Students within KCFCU's field of membership who are not yet members are welcome to join.
"We are proud to be able to support the educational goals of our members", says Tracy Miller, CEO of KCFCU. "Through the KCFCU scholarship program, we are able to assist local students to achieve a higher education and help them obtain their goals."
Students may obtain a copy of the scholarship application and a full list of requirements online at www.kelloggcfcu.org. The scholarship information can be found on the About Us page under Scholarships. Completed applications must be post marked no later than March 21, 2016. Please send all applications to: Attn: Scholarship Committee, KCFCU, P.O. Box 140, Battle Creek, MI 49016.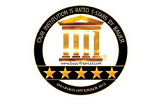 Great Lakes First Federal Credit Union Earns Bauer's Elite 5-Star Rating
Great Lakes First Federal Credit Union, in Escanaba, Michigan, has once again earned its coveted 5-Star Superior rating. Earning and maintaining Bauer's highest rating for the most recent 45 consecutive quarters, Great Lakes First FCU has also put itself in the upper echelon of "Exception Performance Banks," a designation reserved for institutions that have earned this Top 5-Star rating for ten years or longer.
"A 5-Star rating indicates that Great Lakes First Federal Credit Union is one of the strongest credit unions in the nation, excelling in such areas as capital, loan quality, profitability and much more. Earning the Exceptional Performance designation proves that Great Lakes First Federal Credit Union has been getting it right for a long time," expressed Karen L. Dorway, president of BauerFinancial, the nation's bank and credit union rating firm.
"Bauer Financial has been touting the benefits and service of member-owned credit unions for years," Dorway continues. "I am thrilled to be able to say that the January 2016 issue of Consumer Reports agrees. According to its own surveys, Consumer Reports concluded that credit unions are best for in-person customer service as well as lower fees. More than 90% of credit union members responding to the CR survey indicated they were 'highly satisfied' versus less than 70% for the four largest national banks."

Village Community Credit Union Merges with Parkside Credit Union
Parkside Credit Union is pleased to welcome the staff and membership of Village Community Credit Union (based in Dearborn), which merged into Parkside CU on Jan.1, 2016. Parkside now has assets totaling over $100 million.
With full-service branches in Livonia, Westland, and now at two locations in Dearborn–4353 Maple St. and 9500 Dix Ave.—Parkside's expanded field of membership reaches a five-county geographic area consisting of Oakland, Wayne, Washtenaw, Macomb, and Monroe. Parkside has added 11 new employees, more than 3,800 members and two new ATMs as a result of the merger.
Parkside CU CEO Janet Thompson is confident that members and the communities it serves will benefit from this merger, "It is our goal to provide the very best financial services available in the Metro Detroit area; our new branches and staff will help us to achieve this goal."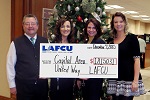 LAFCU 2015 Fundraising Efforts Net More Than $18,000 For United Way
LAFCU recently presented the Capital Area United Way with a check for more than $18,000 in donations raised and pledged during 2015.
During 2015, LAFCU employees held a variety of events to earn money for the United Way, including branch bake sales ($980), a sports auction ($1,705), dress down days ($425), a live auction ($501), a silent auction ($1,306), a 50/50 drawing ($151), and an event at Painting with a Twist ($900). Employee pledge donations and a corporate donation made up the balance of the funds raised.
"LAFCU employees are a very giving and caring group of people, and I am very proud to make this donation to Capital Area United Way," said Robin Frucci, LAFCU CEO. "We are especially grateful for the opportunity to give back to the communities we serve."

CU Direct Pays 11th Consecutive Cash Dividend to Shareholders
CU Direct (www.cudirect.com), the nation's leading provider of lending, automotive and strategic solutions to the credit union industry, has announced that the company's board of directors has approved a three percent cash dividend to its 107 credit union shareholders. This is the eleventh consecutive year that the company has paid a cash dividend to shareholders.
In 2015, CU Direct automobile loan volume generated $26 billion in new loans for credit unions adding more than 600,000 new members to the credit union movement and setting new company records.
The company helped partner credit unions increase loan growth by thirteen percent in 2015, and as a result CU Direct credit unions, as an aggregate, were the third largest auto lender in the nation for the second year in a row. In addition, credit unions on the company's CUDL lending platform delivered growth rates double the auto lending market in 2015, demonstrating that credit unions can compete with banks and win in the auto lending marketplace.
"We are pleased to provide our shareholders with a strong return on investment for the eleventh year in a row," said Tony Boutelle, president and CEO of CU Direct. "Our goal is to deliver innovative lending solutions that help credit unions improve efficiencies and make more loans."
For more information on CU Direct and their products please contact your league representative at 800-262-6285.
Go to main navigation