Conference for Volunteers and CEOs is Springing Up Excitement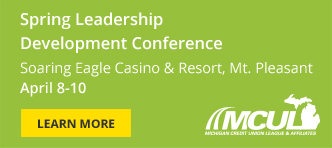 George and Jane Jetson raised their children Judy and Elroy in a futuristic utopia, with spaceship rides to school and work, holographic communications and more. Fast forward to 2016, and today's financial services solutions would fit right in as the next episode!
During the MCUL & Affiliates 2016 Spring Leadership Development Conference, Apr. 8-10 in Mount Pleasant, Amy Smith, CEO of The Payments Authority with deliver the keynote presentation "Fast Money: The Jetson's ARE Today's Members." Smith will explore the latest technologies and what is next to enable consumers and businesses to conduct commerce, with mobile, cyber currency, card security and speed being just the beginning.
The event returns to the popular Soaring Eagle Casino & Resort, where guests are welcome to join attendees to enjoy the venue, purchase tickets for conference meals and entertainment and register for a complimentary bingo game on Saturday afternoon, complete with fun prizes.
A brochure with complete details has been mailed to every MCUL-affiliated credit union and the online agenda may be found here. Those interested in attending are encouraged to book hotel accommodations early. Registration is $399 per person for the first four attendees; five or more are $350 per person.
Go to main navigation