Peers, Examples and Best Practices Pack Lending and Marketing Conference Agenda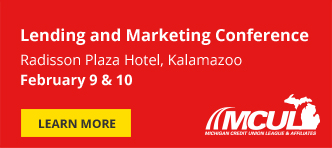 It's great to get out of the office and explore new ideas to be more effective at work, particularly when first-hand experiences and best practices are shared.
During the MCUL & Affiliates 2016 Lending and Marketing Conference attendees will have the opportunity to hear from a number of peers and industry experts, and gain first-hand insights into great ideas that are proving successful at credit unions throughout the state and around the nation. The event takes place Feb. 9 & 10 at the Radisson Plaza Hotel in downtown Kalamazoo.
Two "Credit Union Spotlight" sessions are slated at the event. One is focused on a marketing topic and the other related to lending. The first spotlight will look at a year-long giving-back program executed by all 12 branches of Michigan Schools and Government CU and the second will explore the successes of lending to low-score members which was executed at Jackson Community FCU.
Also slated is "Collaborating + Credit Unions + Community = Impact Saginaw" which will tell the story of a group of community-loving credit unions who worked together to form Impact Saginaw. Through combined resources (people and money), they help to support and showcase the positive events in the city of Saginaw and the downtown area. The presentation will provide an inside look at the development of the branding, marketing and partnering that has made Impact Saginaw a recognizable and vital organization.
More best practices will be offered in "Doing Good and Getting Noticed: Marketing Credit Unions Through Community Outreach" which will explore impactful community reinvestment and financial education initiatives that have been implemented by credit unions, and will highlight funding and partnership assistance that is available to increase impact for credit unions of all sizes.
Be sure to check out the complete event agenda and line-up of speakers. Limited hotel rooms are still available and attendees are encouraged to book rooms and register soon. Registration is $360 per person; a one-day registration rate is available for $199 per person.
Go to main navigation