Educational Community Credit Union to Award $24,000 in Scholarships to High School Seniors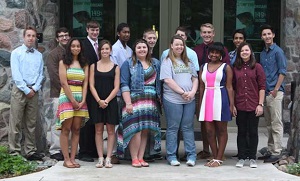 For some, scholarships can make or break a student's ability to attend college. Not everyone qualifies for student loans, grants, or academically-superior awards, and it's often the local scholarships that help bridge the gap and make college a reality.
Educational Community Credit Union's commitment to education has resulted in awarding $364,000 to graduating high school seniors since its Scholarship Program's inception in 1999. ECCU is now accepting applications for its 2016 Scholarship Program which will award $24,000 to 18 college-bound students in the area.
"While ECCU scholarships are based partly on academic achievement, they're not just awarded to 4.0 students," explains Tina Mason, ECCU marketing director. "We take a look at the student's bigger academic picture, such as the kind of courses they took – were they challenging? - and how well they seemed to balance school priorities with part-time work or volunteering."
A minimum 3.0 GPA is required to be eligible for an ECCU scholarship. For complete qualifications, and to download a scholarship application, visit the Scholarship Program page. Applications must be received or postmarked by Friday, April 1, 2016.
Go to main navigation