NCUA Chairman Matz and Congressman Walberg Confirmed at GAC Receptions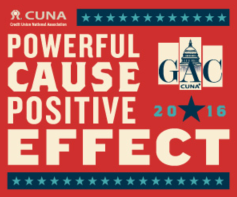 NCUA Chairman Debbie Matz and her Chief of Staff Steve Bosack will be joining Michigan credit union leaders at the Sunday night Michigan Attendee Welcome Reception during the CUNA GAC. The Welcome Reception will take place from 6:30-8:00 pm. on Sunday night. At the Tuesday night reception, from 5:15-6:45pm., credit union leaders will be honoring Congressman Tim Walberg (R-7) as the Federal Lawmaker of the Year from 5:15-6:45 pm.
It's not too late to register for the 2016 CUNA GAC, scheduled for Feb. 21-25 at the Washington Convention Center in Washington, D.C. The MCUL & Affiliates' CUNA GAC Web page has information on the hotel, Michigan specific event schedule, registration, the 2016 Michele Myrick ASFM scholarship application, as well as links to CUNA's GAC website for additional information.

If you have any questions about the 2016 CUNA GAC, please contact Regulatory & Legislative Affairs Specialist Melissa Osborn.
Go to main navigation