Contact Magazine Now Available Online
A brand new issue of Contact, the quarterly magazine from the Michigan Credit Union League & Affiliates (MCUL), is now available in print and online.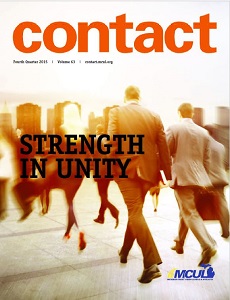 Print copies have been mailed and should be showing up soon at your credit union, but you can read the issue right now online by clicking here.
This issue of Contact focuses on MCUL's "Strength in Unity" campaign and the benefits of the CUNA/League system. Inside you'll also find a Q&A on MCUL's "dues choice" initiative, a profile of a unique Upper Peninsula CEO and the entire U.P. chapter, along with features on CUNA's Member Activation Program, the impact of new NCUA regulations on small credit unions and much, much more.
To read this issue of Contact or browse back issues, click here.
Go to main navigation