In Brief...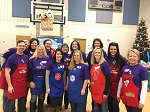 Advia Credit Union Staff Donate Toys and Time to Salvation Army
It's a busy time of year for Advia Credit Union staff. In addition to their job responsibilities, they have delivered more than 600 toys to six Salvation Army sites--toys that were donated by members and employees through Angel Trees located in the lobbies of Advia CU's 24 branches in Michigan, Wisconsin and Illinois. And more than 60 staff have volunteered 300 hours at Salvation Army Toy Towns, bagging toys, stocking toys and helping parents choose just the right bike, game, doll or Star Wars LEGO set.
"We have been helping out at the Salvation Army for the past week or so," says Kristi Heacock, an Advia teller. "I just like giving back."
Breanne Miller, a member services specialist, agrees. "It's such an amazing cause," Miller says. "You can give a family Christmas."
This year, Advia CU introduced a new Staff ACTION (Advancing Community Ties In Our Neighborhoods) Volunteer program which encourages its employees to take paid time off from work to volunteer at charities of their choosing. The credit union is committing 8,500 paid hours for its full and part time staff to support community organizations per year.

United Federal Credit Union has its Crashers
United Federal Credit Union is pleased to announce that Nevada Market Vice President Danny DeLaRosa and Juan Cruz, UFCU's assistant branch manager in Springdale, Arkansas, have been selected to attend Crash the GAC by The Cooperative Trust and CUNA.
Crash the GAC brings young credit union professionals together for a tailored program alongside the main event, and mentoring sessions with key individuals. Mentors include representatives of the National Credit Union Foundation, CUNA, Filene Research Institute and CUNA Mutual Group.
"With a reach across the whole of the United States, Crash the GAC brings a diverse group of future leaders to the forefront of credit unions at the industry's premier event," DeLaRosa said. "I am honored to be among that group of professionals."
"Crash the GAC is a valuable learning opportunity," said Cruz. "It is also an opportunity for me to contribute to the credit union industry as a whole. I look forward to attending."
All Crashers receive a complimentary registration to attend the GAC from CUNA.
"The commitment from both CUNA and The Cooperative Trust to the Crash the GAC program says a great deal about the importance of young adults in the credit union system," says James Marshall, manager of The Cooperative Trust.
"Looking at the advocacy issues that face credit unions early in one's career helps set our young professionals up with the right knowledge to help support their credit unions as they become our CEO's of the future," Marshall explained.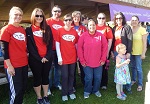 Marshall Community Credit Union Spends Year Giving Back to the Community
Marshall Community Credit Union believes in the importance of building relationships and fostering trust within the communities it serves, giving back to their communities by sponsoring events, working with other businesses, providing financial literacy seminars and presentations, and by developing opportunities for our employees to participate in worthwhile community projects.
In 2015, MCCU employees selflessly donated a combined total of 620 hours of community service and raised more than $7,100 for multiple organizations and events. In addition, MCCU donated nearly $30,000 and supported nearly 50 organizations in 2015.

Credit Union Donates to Operation Care Package Michigan
Central Macomb Community Credit Union wrapped up collections for Operation Care Package of Michigan by donating nearly $1,000 and several boxes of care package items to the Lapeer based charity. Partnering with the Metro East Chapter of Credit Unions, consisting of 32 credit unions stretching from Port Huron to Detroit, $4,400 was given to the charity.
The funds will be used for the Operation Sponsor-A-Box initiative which pays for the shipping of care packages to those serving overseas for the holidays.
"Since 1957, we have been serving our military members," said Drema Isaac, president/CEO. "We are grateful for our members who continue to show loyalty to the military and were once again very generous with their donations."
For information, contact Paula Rose, vice president of marketing, at 586-466-7800 ext. 123.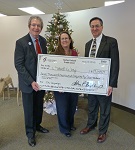 Gerber Federal Credit Union Employees Donate to the United Way
John Buckley, president/CEO of Gerber Federal Credit Union and Ellen Davis, assistant vice president of human resources, presented a check for more than $7,000 to Mayor James Rynberg, campaign chairperson for United Way Newaygo County. "Our generous employees raised close to $5,000 for the United Way, with Gerber FCU making a 50% donation match," said John Buckley.
Go to main navigation