Don't Forget to Register for the 2016 CUNA GAC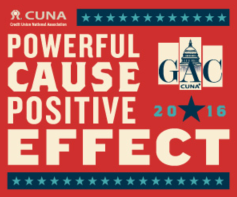 Be sure to register for the 2016 CUNA GAC, scheduled for February 21-25 at the Washington Convention Center in Washington, D.C. The MCUL & Affiliates' CUNA GAC Web page has information on the hotel, tentative event schedule, registration, the 2016 Michele Myrick CURE scholarship application, as well as links to CUNA's GAC website for additional information.
The GAC unites thousands of credit union leaders in our nation's capital to demonstrate the strength of the credit union industry. The CUNA GAC is recognized as the premier event for political impact. The event will once again feature a full program of nationally recognized speakers, exhibits and Capitol Hill visits with federal lawmakers. Award-winning broadcast journalist Ted Koppel will speak at this year's CUNA GAC. Koppel's presentation will draw from his latest book Lights Out: A Cyberattack, A Nation Unprepared, Surviving the Aftermath to explore imminent cybersecurity risks and challenges.
If you have any questions about the 2016 CUNA GAC, please contact Regulatory & Legislative Affairs Specialist Melissa Osborn.
Go to main navigation