First-Ever 'Share the Love' Grand Prize Winner Celebrates Making a Difference for Families in Need
BAY CITY—United Bay Community Credit Union had supported the Ronald McDonald House of Ann Arbor for years before it was named the first-ever grand prize winner of CU Solutions Group's "Share the Love" competition, but thanks to a $25,000 total donation on its behalf, the credit union is set to help out a whole lot more.
UBCCU has supported the Ronald McDonald House for more than two decades, ever since the M&M Annual Memorial Golf Outing was established to honor the memories of Megan and Melissa, two young girls with family connections to the credit union who were killed in a car accident. Another child, Jessica, survived the accident but spent months in the hospital, and her family relied heavily on the help of the Ronald McDonald House of Ann Arbor during that difficult time.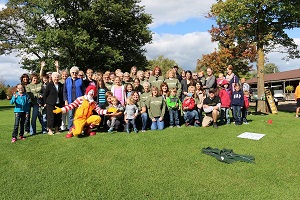 Participants at the 2015 M&M Memorial Golf Outing, which since its inception has raised more than $250,000 for the Ronald McDonald House of Ann Arbor.
Since then, the golf outing has been held each year on the third Saturday of September, and several hundred people attend annually, including credit union staff and members, community members and even golfers from outside the state. Since the event was launched, more than $250,000 has been raised to benefit the Ronald McDonald House.
Kim Kelly, executive director of the Ronald McDonald House of Ann Arbor, said that UBCCU's "Share the Love" victory was thrilling not only because of the difference it will make for her organization, but because there was such stiff competition for the top prize.
"We knew there were some major competitors out there and much larger credit unions that were really fighting across the country," she said. "We were optimistic, but also careful not to get too excited."
Kelly reminded that while the Ronald McDonald House shares its name with the ubiquitous fast food chain, it only receives a "minimal" portion of its funding from McDonald's.
"We are truly a non-profit that has to raise every dollar," she said. While families that use the Ronald McDonald House's services are never asked to pay, those that want to can make a suggested donation of $10 per night.
"If you look at $25,000," said Kelly, "that has just underwritten a lot of overnights for a lot of families. It has just paid for all of those families to stay with us for free." In appreciation of United Bay's efforts, a recently renovated portion of the Ronald McDonald House of Ann Arbor will be renamed in honor of the credit union.
Commitment to Community
Lisa Mahler, president and CEO of the $183 million credit union, told the Michigan Credit Union League & Affiliates (MCUL) in November that the Share the Love campaign shows some of the best of what credit unions have to offer.
"It really does show the fact that we're giving back to the community and doing it in a unique way," she said. "Yes, we participate in Toys for Tots and other community events, but for us it's more than an industry thing. We really care about the groups we participate with, and we do it through everybody participating and being present in the event, not just giving a check."
With more than two decades of the golf competition in the rear view mirror, Mahler said the award is a recognition of all the good work the credit union and the community have done for the Ronald McDonald House of Ann Arbor over the course of the last 22 years. "It demonstrates that this work does make a difference and that people are part of our credit union because they want to be a part of something bigger," she said.

To see UBCCU's video, click here.

To learn more about the other winners from 2015's final round of "Share the Love" voting, click here.
About Share the Love
Share the Love, a joint campaign by CU Solutions Group, their member rewards program - Love My Credit Union Rewards - and CUNA invited credit unions to create a video that showcases the good work they do in their community for a chance to win thousands of dollars for the charities of their choosing (must be a 501(c)(3)). During the course of this campaign, nine credit unions were awarded a $10,000 donation to give to their charity of choice, and the grand prize winner won an extra $15,000. Additional details can be found at LoveMyCreditUnion.org/SharetheLove.
Go to main navigation