ELGA Credit Union Helps Underbanked with Grant Project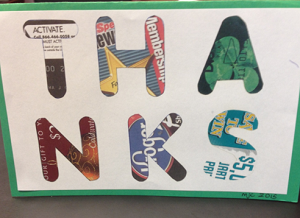 Without a saving or checking account to store earnings, unbanked families lack the resources to build savings and avoid unnecessary transaction fees. With the help of a Michigan Credit Union Foundation Community Reinvestment Grant, ELGA CU is providing employees from St. Luke's N.E.W. Life Center a path to improve their financial futures. ELGA CU recently made two money management presentations to talk about the importance of setting goals, budgeting, tracking spending and smart use of the prepaid debit cards as a stepping stone to account ownership.
The letters "THANKS" on the creative thank you card from participants were made from images of suggestions ELGA CU had for them to earn points, track spending and save, including Save to Win. Karen Church, ELGA CEO, reports that two people have already agreed to put their pay on prepaid cards instead of issuing paper checks, getting them on the path of saving money with better use of financial services. "Hooray, that was the goal!" exclaimed Church. "Thank you, Michigan Credit Union Foundation, for allowing us this opportunity and for all you do to help credit unions make an impact in our communities!"
Additional use of the grant will be put into place with ELGA CU's partnership with Crossroads, the Mid-Michigan Employer Resource Network. The network consists of seven companies that are doing an effective job of hiring those out of work, providing some initial readiness training, and once hired providing them a Success Coach. ELGA will be meeting with new hires and presenting their money management and prepaid card program.
For more information about the Michigan Credit Union Foundation's programs and grants, see click here.
Go to main navigation