'Share the Love' Winner, Frankenmuth Credit Union, Donates Award to Farmers Market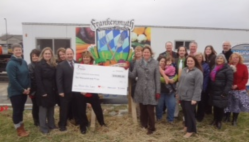 The latest Michigan credit union to be named a winner in the Share the Love competition is working to make it easier for community members to access fresh fruits and vegetables.
Frankenmuth CU was recently named as one of three credit unions to receive $10,000 to be donated to a charity of their choice through CU Solutions Group's Share the Love competition. The funds were donated to the Frankenmuth Farmers Market, which is in the process of building a new facility adjacent to the credit union.
Frankenmuth CU CEO, Vickie Schmitzer, explained that the Frankenmuth Farmers Market's downtown location had served the community well for a decade, but problems had developed in recent years due to insufficient parking and a lack of refrigeration. At the same time the farmers market officials were looking for a new site, FCU began construction to double its own office space. As a result of that growth, continued Schmitzer, the credit union was able to offer some extra land to the farmers market in order for it to build a standalone facility.
According to Schmitzer, farmers market organizers raised more than $1 million toward the project on their own, but needed to finance the rest of it.
"We've been working tirelessly to find pennies at a time for them so they had to finance the least amount possible," said Schmitzer. "When this opportunity came along to get more cash for them, we said we really have to band together—credit union employees, members, farmers market vendors, growers and visitors. Let's all band together. This is absolutely free money and it supports the collaboration between the credit union and the market people."
Go to main navigation