MI CUs Continue Business Lending Gains Through 2015 Q3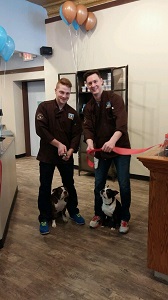 Paul Gabriel (left) & Brian Scherle at Browndog's grand opening
Lansing, MI (Dec. 7, 2015) –The Browndog Creamery and Dessert Bar opened in Northville in early 2015. It has been satisfying sweet tooths with its decadent treats and custom ice cream ever since.
"My partner and I are both foodies and the only way we were going to do this was to do something different and unique and crazy," Browndog Creamery and Dessert Bar Co-owner Paul Gabriel said.
The shop offers custom desserts and distinct ice cream with flavors with names such as Tuscan Sun and Buttered Berry Brioche.
"We have a pretty loyal following. Once people come in and try the ice cream they definitely always come back," Gabriel said.
Gabriel is able to share his distinct treats with the Metro Detroit area thanks in part to a business loan from DFCU Financial. Gabriel, who also co-owns the ice cream shop Stuart's of Novi, said he tried to get a loan to open the Browndog from a few banks.
"They turned me down almost immediately," he said.
Banks pulling back on business lending is a trend echoed by a recent Wall Street Journal article which stated small business lending at 10 of the largest banks dropped by 38 percent nationally between 2006 and 2014, and amounted to 43 percent of business loans of $1 million or less from January through August of this year.
Compare these numbers to a 15.8 percent statewide increase in business lending from Michigan credit unions through 2015 Q3 as compared to the same time last year, and an annual increase of 20.3 percent from June 2009 to June 2015, according to the Credit Union National Association (CUNA). During that same six-year time period, CUNA said state-chartered banks increased business lending by 1.3 percent.
"The stories of Michigan credit unions giving life to small business dreams can be found in community after community across the state," Michigan Credit Union League & Affiliates CEO Dave Adams said. "We are proud to be contributing to Michigan's comeback."
As for Gabriel, he plans on expanding his business to make ice cream on-site and to open more shops to the delight of future customers.
"You can taste as many or as few as you want because our flavors are very different," he said. "You'll definitely find one you like.'
Here's a look at average regional 2015 Q3 business loan growth from credit unions headquartered in each city:
Detroit: 75.8 percent
Flint: 25.6 percent
Grand Rapids: 50.1 percent
Traverse City: 124.2 percent
Here's a look at all 2015 Q3 statewide loan growth metrics.
Total assets: 5.6 percent
Total loans: 11.6 percent
Used automobiles: 14.9 percent
New automobiles: 16.3 percent
Member business loans: 15.8 percent
Other unsecured loans: 10.3 percent
First mortgages: 9.6 percent
Credit cards: 5.4 percent
# # #
Go to main navigation