New MI Law to Help Empower Students with Financial Management Skills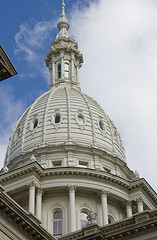 MCUL supported a new law aimed at arming helping high school students with knowledge needed to understand and manage personal finances by earning credit for financial literacy courses.
Gov. Snyder signed HB 4390 into law on Nov. 16.
"Learning how to navigate personal finances and budgeting in the real world is an important life skill for young adults," Snyder said. "To have the best Michigan economy possible, we should empower high school students to learn the basics of our economic system and how to guide their own financial futures."
HB 4390 allows the Michigan Merit Curriculum half-credit economic requirement to be satisfied by completing a course in personal economics that includes a financial literacy component.
Credit unions can assist educators in tapping into free high-quality tools and resources to include in a course of personal economics by directing them to the "For Educators" page on the MCUL Website's Financial Education Portal. These resources include the comprehensive National Endowment for Financial Education's High School Financial Planning Program, Biz Kid$ lesson plans, and teen Financial Reality Fairs.
Go to main navigation