In Brief...
Lansing Area Credit Unions Hosted the 27th Annual Golf Outing for CHUM Therapeutic Riding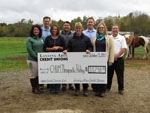 Lansing area credit unions recently presented a check for more than $10,000 to CHUM Therapeutic Riding. The mission is to assist individuals of all ages in using Equine Assisted Activities and Therapies. Therapeutic riding and 4H competitions of all ages is offered.
The funds were raised by volunteers from Lansing area credit unions and partners who put on the 27th Annual Lansing Area Credit Union Charity Golf Outing. Over the past 27 years, Lansing area credit unions has donated more than $260,000 to local charities with this event.
The following credit unions participated: Lansing Postal Community Credit Union, Portland Federal Credit Union, Option1 Credit Union, Option1 Credit Union, Lake Trust Credit Union, LAFCU, MSU Federal Credit Union, and CASE Credit Union.

Update on Chip-and-PIN: MCUL's Efforts Pay Off
The recent retail industry fueled push to incorporate chip-and-PIN security technology fell on the attorneys general deaf ears thanks to the efforts of MCUL, CUNA and other state leagues. This coalition made an aggressive push to warn the attorneys general, including a letter admonishing the attorneys general to be wary of introducing chip-and-PIN technology resulted in an overwhelming vote in favor of MCUL's position.

Honor Credit Union Announces 6th Annual Honor Awards Recipients
Honor CU announced the winners of the 6th Annual Honor Awards. The awards give local teachers and school faculty an opportunity to win $100 to use toward their school or classroom. Each person was required to submit a short description of what they would use the money for and 30 winners were selected by the panel of the Honor CU team.
382 submissions were received from more than 300 schools.

Battle Creek Chapter Hosts First Lunch and Learn
On November 18 the Battle Creek Chapter hosted author George Franklin for their first lunch and learn. Over thirty-five credit union officials gathered to hear Mr. Franklin's tips for effectively engaging elected officials. Previously, Mr. Franklin was VP of Worldwide Government Relations for Kellogg Company. His book, Raisin Bran and Other Cereal Wars, details his thirty years of experience lobbying for the most famous tiger in the world.

TLC Community CU a Drop Location for "Moving to Feed Lenawee"
TLC Community CU was one of the drop locations for "Moving to Feed Lenawee." On Nov. 21 Q95 Country Radio was on location to accept donations to benefit the Salvation Army soup kitchen. Non-perishable food and monetary donations were accepted.

Advia CU Welcomes New Financial Advisor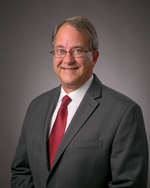 Advia CU introduced the new Financial Advisor, Jerry Johnson, with meet and greet events at selected branches in December. Jerry will be available to discuss specific financial questions surrounding life events such as beginning a family, paying for a child's education, or investing for retirement, at the following locations from 9am.-noon:
Dec. 4th, Parchment Branch, 550 South Riverview, Parchment
Dec. 18th, Mattawan Branch, 24032 Red Arrow Highway, Mattawan
Jerry has more than 25 years of financial service experience and his first objective is to help members reach their financial goals. He is a Registered Representative of CUNA Brokerage Services Inc.

Central Macomb Community Credit Union's Staff Brings Mad City Money to Local High Schools
Central Macomb Community CU staff will visit high schools to conduct a real-world budgeting simulation called Mad City Money this fall. The simulation is produced by CUNA.
The 90-minute session will allow students to create a new identity with an occupation, salary, spouse, student loan debt, credit card debt and medical insurance payments. Teens may also have a child to plan for as they go through the nine stations to make purchases.
"We like to pair the students up as they arrive so that they have to make decisions together and learn to compromise with their partner," President/CEO Drema Isaac said. "This adds another element of real life budgeting for them."

Chippewa County CU Celebrates Grand Re-opening of Main Office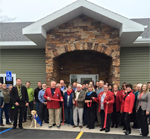 Chippewa County CU celebrated the grand re-opening of its main branch in Sault Ste. Marie on Nov. 10. Members of the Sault Area Chamber of Commerce commemorated the event with a ribbon cutting ceremony.
Board of Directors President Ben Jones along with CEO Connie Toensing and other local board members and organizations were in attendance. CCCU updated the building and doubled the square footage to accommodate future growth and to better serve members.

Catholic Federal Credit Union's Forbes Scholarship Applications Available
Catholic FCU's Forbes Scholarship applications are now available at www.cathfcu.com/forbes-scholarship-fund. The college scholarship is available to credit union members who are planning to attend or are currently attending a college, university, community college or trade or technical school.
The award is based on the student's achievements, scholastic accomplishment, financial need, community service and GPA. The scholarship is to honor the legacy of Msgr. Eugene A. Forbes who was a firm believer that young people should have the opportunity to receive education. Since 1982, the scholarship committee has awarded over $1.6 million through more than 3,600 scholarships to students.
The deadline to submit an application is March 5, 2016.

Central Macomb Community Credit Union and Veteran Join to Win Money for Pets for Vets
Central Macomb Community CU partnered with Army Sergeant Andrew Gombar and his companion dog, Ellie, to generate voting to win $10,000 for Pets for Vets. Pets for Vets is a charity that pairs rescued pets with veterans who need a companion animal.
CMCCU is competing in a video contest with other credit unions across the nation to win money for the charity by securing the most votes for the video in November. Central Macomb's video can be seen here.
CMCCU has been donating to Pets for Vets for years and has donated $3,096 thus far. Sgt. Gombar served as a combat engineer in Afghanistan for Operation Enduring Freedom and received Ellie as his companion on Sept. 10, 2015.
Sgt. Gombar was at the Clinton Township branch from noon-1:30pm. on Nov. 20.

Baker College of Auburn Hills Honors Genisys CU's Former CEO with $2,000 Scholarship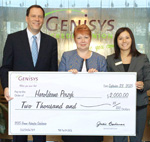 Genisys CU awarded Haroldeane Perzyk of Lake Orion the 2015 Dianne Addington Community Leadership Scholarship.
The $2,000 award, named after a former Genisys CEO, was given to the Baker College of Auburn Hills student for what Peter Karsten, CPA, Baker College of Auburn Hills president called, "juggling the responsibilities of a professional career and significant community involvement while graduating with a 4.0 grade-point average." He continued, "We're pleased she is continuing her education at Baker College to obtain a bachelor's degree, and we appreciate Genisys CU's generous support of such a deserving student."
Perzyk earned an administrative professional associate degree and is continuing her education in pursuit of a bachelor's in business administration. After graduation, she plans to devote more time to her favorite charities and new volunteer opportunities.
"It's an honor to receive the Dianne Addington scholarship," Perzyk said. "I will use it to complete my bachelor's degree, which I know will be an asset at work and in the community."
Go to main navigation