How NFL and NHL Sponsorships Are Helping Grow Michigan Credit Unions
For many Michiganders, falling leaves and cooler weather are synonymous with one thing: the return of Red Wings hockey and Lions football. And a pair of Michigan credit unions are betting that those widely loved teams can help boost name recognition statewide.
Lathrup Village-based Michigan First CU and Detroit's Diversified Members CU are the official credit unions of the Detroit Red Wings and Detroit Lions, respectively. Management at both credit unions said the sponsorships are helping grow their credit unions.
Michigan First launched its partnership with the Red Wings a few years ago when the credit union was in the process of expanding its charter statewide.
"We started thinking about brand alignment," said President and CEO Michael Poulos. "Clearly you could go into lots of areas and you'd have to be there for a number of years before they'd recognize you as contributors to the community, as a solid institution. So the concept of brand alignment—where you partner with somebody who's already well-known and well-respected in the community—could put us light years ahead of where we would've been otherwise. When you look around the state of Michigan at some of the other sports entities…the Red Wings probably have the strongest brand in the state, so we started having discussions with them about a partnership."
Michigan First did a limited partnership during the first year "to get our feet wet and see how it would go," said Poulos, explaining that the credit union sponsored the Red Wings' Kids Club and other youth-related events. After those went well, the CU went full-bore into becoming the team's official credit union sponsor.
Since becoming the team's official credit union, said Poulos, the credit union's studies have shown a significant increase in name recognition—particularly in Southeast Michigan, where as many as 40 percent of non-members are familiar with the credit union thanks to the Red Wings.
"Clearly nobody will do business with you if they don't know you, and once they do know you, they've got to know something positive about you and have some sort of good thoughts about you," he said. "Our numbers have really improved over the last two or three years in terms of name recognition. That gives us an opportunity when we go to an area. We have a partnership with Kroger and when we go to new areas people don't necessarily ask us anymore 'Who are you?' They've heard of us before. They might not know a lot about us, but they've heard of us."
Bridging the Awareness Gap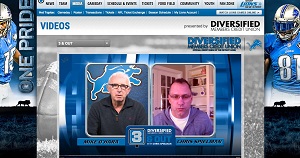 Diversified Members CU is also seeing the benefits of wider exposure since becoming the official credit union of the Detroit Lions earlier this year. DMCU sponsors the coin toss before each game and also has its name announced over the PA system and prominently displayed in the stadium during games. Select videos on the team's website also include the phrase "Presented by Diversified Members Credit Union."
"One of the issues we face is an awareness problem of what credit unions even are, let alone knowing who our credit union is in the marketplace," explained EVP Kevin Finneran. "We're a fairly large institution for credit unions, but we're not all that well-known. This is a way to get pretty big exposure with the Lions and get our credit union's name known."
While the Red Wings may have a higher winning percentage, Finneran said there are real benefits to partnering with a pro football franchise.
"As far as sports goes, the NFL is king, so you feel like you're going to get maximum exposure," he said.
But Finneran noted that, when it comes to winning, the Lions aren't exactly the New England Patriots.
"Last year the Lions actually made the playoffs, and that was kind of unusual," he noted. "We saw that as an upswing to get in when the getting was good. They were on the fringe of being a good team—at least that's what we expected. If you've lived here long enough, you know, it's the Lions. So you temper your expectations. But we're excited to be a part of the organization and hopefully an improving team that makes the playoffs again."
Known Far and Wide
One advantage both credit unions have is a statewide field of membership. That's particularly convenient given that all four major Detroit sports franchises are well-loved throughout the state, even hundreds of miles from where they play their home games. Both CEOs said that many credit unions—particularly those with larger fields of membership—would be wise to look for opportunities to partner with local sports teams or other community institutions with a wide reach that can help spread the credit union's name.
"You can always affiliate, because people like sports and they pay attention to sports probably more than most things," said Poulos. "The key thing out of it is: Do the sports team's values align with yours? Because whatever people think of them, they're going to think that of you."

"You have to pick and choose," said Finneran. "We just talked to a minor-league baseball team this year and the money they wanted to be a sponsor this year was approaching what the pro levels were. For such a limited audience, that doesn't make sense. A lot of it has to do with the person you're dealing with on the other end. You have to pick and choose and see which deals are good and which ones aren't."
Both CEOs said that it's difficult to tie any tangible return—such as increases in membership or loans—to their sponsorships, but reminded that the real goal is to help spread the credit union's name.
Go to main navigation