In Brief...
Lake Michigan Credit Union selected as 2015 Best of Livonia for Credit Unions
Each year, in and around the Livonia area, the Livonia Award Program chooses only the best local businesses. Their focus is on companies that have demonstrated their ability to use various marketing methods to grow their business in spite of difficult economic times. The companies chosen exemplify the best of small business, often leading through customer service and community involvement.
This year, Lake Michigan CU, new to the Livonia area, was selected for the award. This recognition is a result of their dedication and efforts in the organization that have helped build their business. Lake Michigan CU's team is now a part of an exclusive group of small businesses that have achieved this selection.

Marshall Community Credit Union Supports Girls on the Run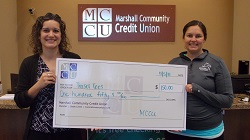 Marshall Community CU recently presented Girls on the Run of Calhoun County with a donation of $150. The funds will be used to support the upcoming Tinsel Toes 5K, a fundraising family event planned around Battle Creek's Festival of Lights.
Girls on the Run is a nationally recognized program that inspires young girls to take charge of their lives and develop a positive attitude toward life's challenges. Along with the curriculum, the girls are coached to compete in an empowering 5K each spring.
"We are so excited about partnering with community supporters like Marshall Community CU," said race director, Nikki Elder. "This event will be a fun experience for the whole family that highlights the beauty of Battle Creek's Festival of Lights and downtown business area as well as being an excellent way to show support our Girls on the Run program in Calhoun County."

TLC Community Credit Union Announces New Branch Manager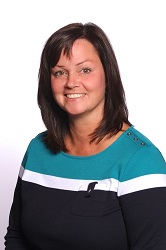 TLC CCU announces Dawn Wertz as the new Assistant Branch Manager for TLC's Tecumseh Office. "We are excited about the addition of Dawn to the Tecumseh Management Team," said TLC CCU President and CEO Randy Smith. Wertz is now available to meet with members regarding their TLC deposit and loan needs. In addition, she will be responsible for assisting in staff management.
During the past decade, Wertz has increased her knowledge of financial services. She developed expertise in consumer and HELOC lending, IRA/HSA consulting and business development while employed at Onsted State Bank. In addition, she has hands on experience in branch management and retail administration. Wertz also has more than 25 years of providing excellent customer service.
Wertz commented, "I am extremely pleased to be working in Tecumseh again and focusing on delivering TLC products and services to its members."
For more information about TLC and to speak with Dawn Wertz, call 517-264-0479.

Lake Michigan Credit Union Hires Larry Shortt as Mortgage Loan Officer
Lake Michigan CU is pleased to announce the hiring of Larry Shortt as a mortgage loan officer for its member direct mortgage department.
Shortt's original career path began with law enforcement, and Criminal Justice Studies at Palos Hills Community College, then to the University of Illinois Champaign – Urbana Police Training Institute. Shortt later moved back to his home state of Michigan in 2003, deciding to leave his law enforcement days behind and pursue a second chapter mortgage industry career. He worked for Flagstar Bank, Bank of America and Fifth Third Bank where he earned top producer honors.
Lake Michigan CU's Vice President of eMortgages, Julie Bacon, appreciates Shortt's background and skill set. "Larry brings valuable experience and extensive familiarity with lead conversion and lending guidelines to our member direct department. He has a vast working knowledge of VA lending requirements and is proving himself to be a respected asset to our growing team."
Shortt is excited about joining Lake Michigan CU's growing, thriving mortgage environment. "Lake Michigan CU has a stellar reputation and a vast array of mortgage products to work with. I'm excited about being a part of this team and using my experience and knowledge to help others excel in their positions as well as my own."

Wildfire Credit Union Announces Board Changes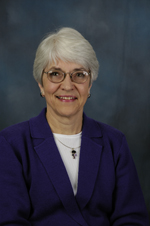 At the October board meeting of Wildfire CU, Director Jane Wirth announced she was stepping aside from the board responsibilities and moving to director emeritus status. Following the acceptance of Wirth's decision, the board appointed Andrew Bethune, associate board member, to the board to complete Wirth's remaining term.
Jane Wirth joined the board of Wildfire CU in 2005 when the Midland Area Credit Union merged in with Wildfire. Wirth served on the board of the Midland Area CU for 12 years prior to the merger, serving as chair of the board during most of those years.
Andrew Bethune was appointed to the board as an associate board member in March 2014. During his time on the board, he has been involved in all the board and planning meetings. Bethune is the executive director of the Saginaw Valley State University Foundation and also serves on the boards of the Saginaw County Chamber of Commerce and The Miracle League.
Rod Francis, Chair of the Wildfire CU Board of Directors, commented, "Appointing Andy to complete Jane's term makes a lot of sense. He has had an opportunity to be involved as an associate board member for almost two years and during that time has brought a new perspective to the board. By blending our board with seasoned and younger board members, we can be sure that we are responding to the needs of all our members."

Dort Federal Credit Union Announces the 2016 Student Scholarship Program
Dort FCU board of directors announced the 2016 Student Scholarship Program. The program will grant five $1,000 scholarships to graduating high school students or college students seeking to continue their education.
"Our scholarship program demonstrates Dort FCU's commitment to our student members pursuing higher education," said Douglas Kidd, chairman of the board of directors. "We believe an educated workforce is essential for our community's future success."
Requirements for the scholarship include the applicant being a Dort FCU primary account holder with a membership opened before Mar. 4, 2015 and a 2016 or earlier high school graduate with a minimum GPA of 2.5. Applicants interested must also submit transcripts, letters of recommendation and a brief essay.
"We hope our local students will choose to invest in their education and share their talents with our community," Kidd added.
The deadline for applying is March 4, 2016. For the complete eligibility requirements and application, visit here.

Catholic Federal Credit Union's Employee Named First Recipient of Great Lakes Bay Regional Alliance Ambassador Award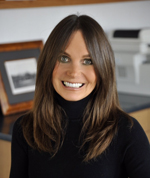 Catholic FCU's Vice President of Community Relations, Bridget Looby Staffileno, was named the first recipient of the Great Lakes Bay Regional Alliance Ambassador Award. Staffileno has an impressive amount of volunteer hours and spends her time giving back to community by participating on numerous boards of directors.
Staffileno received her award at the Great Lakes Bay Regional Alliance Ambassador Summit held on Nov. 3.

$3,000 Given to Local Charity in Hometown Charity Giveaway
In keeping with the credit union's philosophy of "people helping people," Credit Union ONE will host its third annual Hometown Charity Giveaway. Voting will take place on Facebook from Nov. 9–27, 2015 and one local charity will win a $3,000 donation.
Anyone who "likes" the Credit Union ONE Facebook page is eligible to vote.
The annual Facebook promotion recognizes local organizations and celebrates those who give back. Each of the credit union's branches–located throughout Metro Detroit and in Grand Rapids and Traverse City–nominated an organization that supports the community they serve.
Ranging from human services and research groups to community enrichment and animal welfare organizations, the nominated charities all share a commitment to helping others.
A complete list of the nominated charities, along with more information about their work, can be found online.

United Federal Credit Union Hosts "Hero Appreciation Week" to Honor Veterans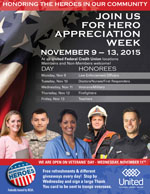 United FCU was open on Veteran's Day in honor of all the veterans and champions who served or are currently serving. UFCU hosted "Hero Appreciation Week" at all branches from Nov. 9-13.
Veterans, police officers, firefighter, teachers, doctors, nurses and first responders were invited to visit a branch to enjoy refreshments and receive a small gift. On Veterans Day, members and the general public were invited to sign one of the giant "thank you" cards that are being sent to soldiers overseas.
"As we go about our lives, it's easy to forget to say 'thank you,'" President and CEO Gary Easterling said. "It's important to take time to express gratitude both to the veterans who have bravely put their lives on the line for our country, and to the other heroes among us who put their effort into helping others every day."
Each day focused on a different group of heroes.

Catholic Vantage Financial Credit Union Hosts "Black Wednesday"
Catholic Vantage FCU will host "Black Wednesday" to provide exceptional low rates on auto and holiday loans before Thanksgiving. Special loan rates were announced on Nov. 13 and will become available for one day only on Black Wednesday, Nov. 25.
"We'll open our credit union offices in Livonia and Plymouth at 8am. on Black Wednesday to greet and assist members," said Emma Teller, vice president of marketing and business development.
Teller added that members and the general community are welcome to stop by the branches to receive a goody bag filled with coupons for businesses throughout the community. The staff will also be available on Black Wednesday to open new member accounts, process loan applications and assist with refinancing loans from other financial institutions.
"Black Wednesday is quickly becoming a popular event for our members and staff," Teller added. "It allows everyone the opportunity to get into the holiday spirit with some extra funds in their pocket."
Members can apply for loans online beginning at midnight through 5pm. on Nov. 25.

Catholic Federal Credit Union Salutes Local Veterans through Generous Donations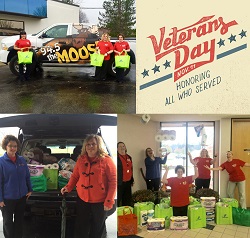 Catholic FCU staff saluted local veterans and their families by donating a dozen bags of food and non-perishable items along with a $100 monetary donation to "I Support the 1%" food drive.
"I Support the 1%" is a non-profit food pantry for Mid-Michigan veterans, National Guard and the reservists of all military branches. Its mission is to keep the pantry stocked with food staples and personal necessities and to provide emergency financial aid that veterans and their families may need.
Go to main navigation