Two Financial Reality Fairs Aimed at Educating Teens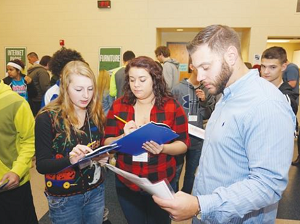 Public Service CU and TLC CCU each held financial literacy fairs that simulated budget management for teens. Public Service CU held theirs at the Torch of Wisdom Center in Southfield, while TLC CCU held its fair at Madison High School. The concept of both was to acclimate students to financial planning so they can actively discover for themselves the choices that will affect their financial future.

It's a hands-on experience in which students identify their career choice, are given starting salaries and then complete a budget worksheet requiring them to live within their financial lane. They are required to pay for necessities such as housing, utilities, transportation, clothing and food. Throughout the fair, there are also many choices for additional lifestyle spending that supplement their necessities that push students to learn how to balance their wants and needs independently.

Lilly Wolcott, Youth Financial Education Supervisor of TLC CCU, said "The students visited information booths manned by volunteers, who helped the students make their spending choices and complete their budget worksheet. Finally, after completing their worksheets, students received individual advice from financial counselors about improving their saving and spending habits." After struggling with their budgets and making some hard choices, the teens were eager to absorb important money management advice.
The Michigan Credit Union Foundation aided both TLC CCU and Public Service CU in their reality fairs. The foundation provided Public Service CU with a grant and TLC CCU with materials and implementation guidance to assist in hosting this unique hands-on financial learning experience.

Credit unions interested in facilitating a Financial Reality Fair in their community with the help of the foundation can contact Beth Troost or visit here.
Go to main navigation