Community Connection: Peninsula Federal Credit Union Donates Over $400 to Local Military Families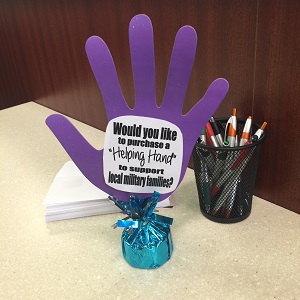 Peninsula FCU has officially wrapped up its International Credit Union Week, which was celebrated for the entire month of October. ICU Week is a celebration that is held by credit unions all over the world. This year's theme was "People Helping People," which is a big part of the credit union philosophy and why Peninsula FCU was so passionate about their celebrations this year.
One way Peninsula FCU celebrated was by collecting donations for local military families by selling "helping hands" at each of their three credit union offices. The colorful "helping hands" decorating the credit union walls were symbols of the members' donations. Between their offices, they collected $463.50, which they donated to the Gladstone 1430th FRG. The money raised will be a great help to military families in their local community.
Peninsula FCU also sponsored a Facebook contest which honored people nominated by their fellow community members. Each person nominated was believed to uphold that same credit union principle of "People Helping People." A lucky winner was chosen and they will receive a basket of goodies and a day dedicated to pampering themselves for a change.
Credit union employees also shopped locally for lunch on the Tuesday of ICU Week. Almost every single one of their 53 employees purchased lunch from spots such as Stonehouse, Bobaloons, or Stone's Deli. Some of the employees also made sure to get their morning coffee from local cafes.
Go to main navigation