Legislators Hear Testimony in Support of Updating Michigan Credit Union Act
Legislators on the House Financial Services Committee this week received a first-hand look at how proposed changes to the Michigan Credit Union Act (MCUA) could make it easier for credit unions to do business.
Three credit union representatives joined MCUL EVP and COO Ken Ross in testifying before the committee to testify in support of updating the MCUA. The law was last updated in 2003, and the Michigan Credit Union League & Affiliates (MCUL) is urging legislators to pass a package of bills which include provisions that would provide regulatory relief for credit unions, along with technical fixes, credit union protections and more.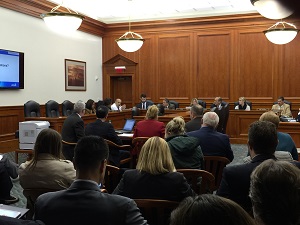 One of the measures included in the package would modernize credit unions' ability to do business virtually, bringing not-for-profit financial cooperatives fully into the 21st century. Further changes would modernize requirements to allow more board delegations for routine matters, update IT vendor contracting requirements and more.
Dennis Hanson, president and CEO of Midland-based Dow Chemical Employees CU, told lawmakers that IT requirements must be changed in order to eliminate cumbersome costs to the industry and to ease how business is done.
"We rely heavily on technology, as only a small fraction of our member transactions are done in the office," he said during testimony. "In fact, our mobile banking uptake was over two times the expectation in half the time. … Given that online, mobile, smart and even smarter devices will only increase and the proliferation of online branchless financial institutions like USAA, Capital One 360 and Ally, credit unions like ours need flexibility to evolve the business model."
Two other CEOs also testified before the committee. Drema Isaac, president and CEO of Central Macomb Community CU, urged lawmakers to make changes to MCUA so that CUs can't be penalized for exercising business judgement when considering "best practices" suggested to the CU during examinations that are not required by law or safety and soundness. Jeremiah Kossen, SVP and chief risk officer at Lake Michigan CU, stressed to legislators that not only will the MCUA update improve the business climate for credit unions in the state, but also provide parity with federally chartered credit unions in Michigan.
Ross provided members with an overview of the Michigan credit union community and testified about the need to create the Credit Union Regulatory Fund in order to protect industry regulatory fees. "As an industry, credit unions pay over $7 million into DIFS annual budget, second only to insurance," said Ross. "Protecting these fees is critical so that during future state budget crunches, credit union fees aren't targeted to shore up budget shortfalls."
"Today's testimony was an important step forward in our efforts to update the Michigan Credit Union Act," said MCUL CEO Dave Adams. "Building on our work over the last year, credit union leaders made a strong case about how this legislation will positively impact our industry. I can't think of a better way we can show them the real impact an MCUA update will have."
Click here to read more about the MCUA update.
Go to main navigation