How Instagram is Helping Michigan Credit Unions Reach a Younger Demographic
Most credit unions have found a home on Facebook and Twitter, but a growing number of Michigan CUs are broadening their reach on social media in the hopes of targeting a younger demographic.
Michigan State University FCU in East Lansing launched its Instagram account earlier this year, and while its follower numbers are small so far, the credit union is betting that it can use that channel to target young members who aren't on Facebook and Twitter.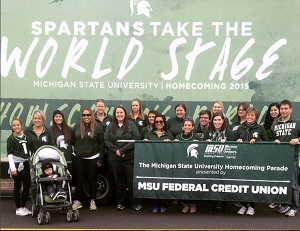 MSUFCU uses Instagram to connect with younger members, including Michigan State's student population. In this photo shared on its Instagram account, CU staff and members prep for the MSU homecoming parade.
"We see a younger demographic on Instagram [and] nationwide the statistics do support that," said Deidre Davis, VP of marketing and communications. "As we look at how we can fully engage with the college students and even individuals younger than college age—because we have many members under the age of 18—this looks like a relevant avenue."
Traverse City's TBA CU has a similar philosophy for its Instagram page.
"It's really just about being in the right place at the right time," explained Christie Dompierre, marketing director. "We've got a really active youth savings program and we're in the schools with our student-run credit unions. We're interacting with students in elementary and middle school, and that's the social media they use. They don't use Facebook because their parents are on it."
One other benefit, according to Davis, is that Instagram isn't yet overloaded with financial institutions or other companies. "On Facebook you'll see several ads throughout it, and Instagram is not a platform that a lot of businesses have opted into at this point, so I think we have somewhat of a unique voice."
Boosting Engagement
Both credit unions have only been on the site for a few months and neither has many followers yet, but they are working on ways to boost engagement.
For TBA, that mean using Instagram to promote an "ugly wallet contest" tied to an event it held at a local community college. Attendees could visit TBA's booth on campus and show off their ugly wallet for the chance to win a $100 gift card.
MSUFCU used the recent MSU-University of Michigan football rivalry game as contest fodder, giving away free rally towels that members could then post in Instagram pictures with the hashtag #msufcurally. The winner received an MSU prize pack courtesy of the credit union.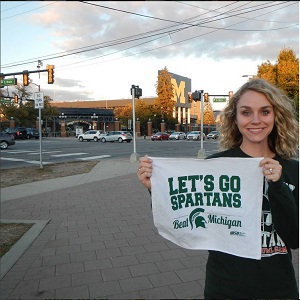 The winning Instagram photo from MSUFCU's rally towel contest.
"We had 30 people engage with us and post photographs on Instagram for the contest or send us photographs, so that was quite successful given that prior to that we had fewer than 100 followers," said Davis. "We engaged maybe 15% of our existing followers and then gained some additional followers."
Davis was realistic about the campaign's reach. "It was 30 people and we have over 205,000 members …[but] we find it's another way we can use to talk with our members and get them engaged with us."
Both credit unions also use Facebook, Twitter, YouTube and other social media outlets, and Dompierre and Davis said they are careful not to spread themselves too thin across multiple sites. Dompierre said that TBA tries to tailor its message to each particular platform. In the case of Instagram, that means targeting younger members. For example, the credit union plans to post information on deposit days at its in-school branches.
"We're trying to be better about divvying up the message, whatever it may be, and finding the right outlet for it," she said.
Dompierre added that because Instagram is a visual medium, the credit union's staff has had to learn on the fly about what kind of postings work best.
"We've been doing a lot more beauty shots of our building, our location in downtown Traverse City and our connection to downtown," she said. "It's definitely different content than posting on other social media outlets, and we're still learning as we go."
Not All Social Media Apps Are Created Equal
One popular social platform that neither credit union has had much luck with is Pinterest. While a few credit unions have found success with the photo-sharing site—most notably Seattle-based BECU, which ran an "ugly house" competition a few years ago as a way to promote home equity loans—these two Michigan CUs say they haven't yet found an effective use for Pinterest.
"We were on Pinterst when it first started and just had a really hard time creating the visual content for it," noted Dompierre. "Since then a lot of the bigger banks have jumped on it."
TBA CU also uses Instagram to connect with younger members, including those at area schools, as seen in this photo collage from its Instagram profile.
Similarly, MSUFCU has a small following there, but Davis said the site "doesn't seem to be as relevant for financial institutions, because I think people go there when they want to make things or get ideas for decorating. It's not as relevant and that would be of lesser importance to us, as opposed to growing our Instagram presence."
For credit unions thinking of dipping a toe into Instagram or any other social media site beyond Facebook and Twitter, Davis urged commitment.
"If you're not willing to make a commitment to it then it's almost better off not to dabble in it, because once you get followers then they have an expectation that they're going to see posts from you, and if you don't deliver on that expectation you harm yourself more than if you'd just stayed out of it," she said.
Go to main navigation