AAACU and MCUF Partner in Thunder Bay Junior High Financial Reality Fair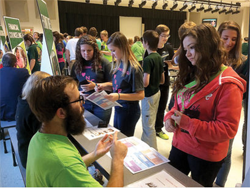 With help from the Michigan Credit Union Foundation, Alpena Alcona Area Credit Union facilitated a "Financial Reality Fair" at Thunder Bay Junior High. The fun and fast-paced interactive fair introduced students to different aspects of living within their means as preparation for entering college and the job market.

Prior to the event, students researched and chose a future career to use in the simulation. Based on the chosen career, they were given the entry level monthly income for that career and asked to balance their monthly budget, including basic necessity expenses like housing, food and transportation.

"A majority of young people have no idea how much everyday living costs," AAACU Director of Marketing LeAnn Schultz said. "We asked them to live one month in the 'real world' and pay for all of their expenses while living within the means of their incomes, and see how much money they had left at the end of the month."

The students were also assigned a random credit score and had to go through the approval process for a loan.

"Some students all want new cars and the best cell phones and plans, but they quickly learn that those things might not be affordable on their budget," Schultz said. "Once they fill out all of their necessities, the students go through their budget and add everything up to see how much they will have left after paying all of their expenses."

Schultz added, "Our goal is to do this in all of the schools in the communities we serve. We hope to work with more volunteers and set up these "Financial Reality Fairs" to expose more students to the cost of living and how they can manage their budget in response."

The Michigan Credit Union Foundation provides materials, funding, and implementation guidance to assist credit unions in hosting two unique hands-on financial learning experiences, the Financial Reality Fair for teens and the Route Your Retirement fair for adults. For information about facilitating a fair in your community visit here.
Go to main navigation